Five Things You Need to Know to Start Your Day
Get caught up on what's moving markets in Asia.
By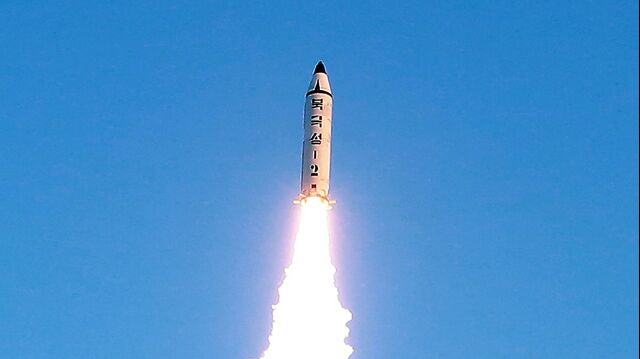 Want to receive this post in your inbox every morning? Sign up here.
North Korea labeled state sponsor of terrorism, Morgan Stanley sees big pain for the Aussie ahead, and Yellen to leave the Federal Reserve. Here are some of the things people in markets are talking about.
Sponsored Discontent
U.S. President Donald Trump said he will designate North Korea as a state sponsor of terrorism, with additional sanctions to come against Kim Jong Un's regime and those who do business with it on Tuesday. However, the move may be more symbolic than practical, as North Korea is already quite isolated and faces manifold sanctions from the international community. Trump's pronouncement comes just after China's ambassador to the U.K. – and former ambassador to North Korea – said that he was "cautiously optimistic" that diplomatic efforts would prove successful in preventing North Korea's push for long-range missile and nuclear weapon capabilities. During a White House briefing, Secretary of State Rex Tillerson said that the U.S. still hopes for diplomacy, but continues to turn up the pressure on Kim's regime.
Aussie Bears
With the Aussie dollar perched just above 75 cents U.S. and a busy news day ahead, Morgan Stanley came out with the most bearish call for the currency on Wall Street. The bank's strategists see the Aussie falling to 65 cents U.S. in 2019 as the nation's yield premium to the U.S. disappears. On Tuesday, we'll get the minutes from the Reserve Bank of Australia's November meeting, at which policymakers left rates unchanged at record lows, ahead of a speech from Governor Philip Lowe at 6:05 p.m. Tokyo time. In its November statement, the RBA warned that the possibility of a downturn in household consumption introduced material downside risks to its outlook.
Yellxit
Fed Chair Janet Yellen said that she will leave the Federal Reserve completely once her successor is sworn into office. She would have been eligible to stay on the Board of Governors until 2024. This decision gives President Donald Trump immense power to reshape the U.S. central bank, as more than half of the board positions will be vacant. Gary Cohn, director of the National Economic Council, said the president will name his pick for Vice Chairman before the year is out. Yellen is poised to hand the reins of a lengthy economic expansion to current Governor Jerome Powell.
Stocks Up
U.S. stocks started the truncated Thanksgiving week on a positive note, with financials, tech, and industrials shares pacing gains in benchmark indexes. Equities pared some of their rally after the U.S. Justice Department sued to block AT&T's proposed takeover of Time Warner – which may call into question whether the U.S. legal system is subject to the president's whims, given his stated opposition to the deal during the 2016 campaign. The Treasury curve continued to flatten, and bitcoin continued to rise. Morgan Stanley thinks investors should treat both phenomena the same way: by buying the dips. West Texas Intermediate futures retreated for the fourth time in five sessions. Derivatives traders, meanwhile, are bracing for massive volumes in volatility-linked options.
Futures Up
S&P/ASX and Nikkei 225 futures are both trading to the upside ahead of the open. Indian bonds will be in focus after posting their best gain this year following the Reserve Bank of India's decision to cancel a debt auction that would have sucked liquidity from banks. It's a light day for economic data, with Japan's tertiary activity index slated to post a 0.4 percent month-on-month drop in September while Hong Kong's composite consumer price index is forecast to show inflation accelerated to an annual pace of 1.7 percent in October.
What we've been reading
This is what caught our eye over the last 24 hours.
Before it's here, it's on the Bloomberg Terminal.
LEARN MORE