Five Things You Need to Know to Start Your Day
Get caught up on what's moving markets.
By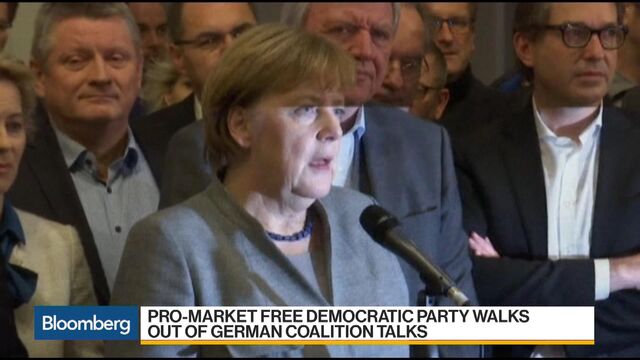 Want to receive this post in your inbox every morning? Sign up here
German coalition talks collapse, Congress sprints to a tax overhaul, and U.K. prepares to make an offer. Here are some of the things people in markets are talking about today.
Walkout
Four-party talks on forging a new coalition government in Germany broke down Sunday after seemingly intractable policy disputes from migration to the environment spurred the liberal Free Democrats to walk out, scuppering Angela Merkel's chances of an easy road to a fourth term as chancellor. While the euro weakened following the news, the currency recovered those losses in European trading. Fresh elections aren't necessarily imminent with Merkel's options including the formation of a minority government or a grand coalition with the main opposition Social Democrats. 
Backroom deals
With the Senate tax bill due to be voted on as early as Nov. 30, private negotiations are in full swing to clinch the fiscal overhaul. GOP leaders are embarking on a tricky balancing act as they write a bill that seeks to pass the Senate's strict budget rules while maintaining the 50 votes needed -- and, at the same time, leaving room for further compromise when the bill is reconciled with House legislation. President Donald Trump has expended much political capital in the fiscal effort but there's a risk that any economic boost from the plan is offset by the Federal Reserve. 
A better bid?
The U.K. may be poised to increase its payment offer to the European Union for the so-called divorce bill that is a crucial part of the exit talks. Britain is "on the brink of making some serious movement forward," Chancellor of the Exchequer Philip Hammond said ahead of today's Brexit sub-committee meeting. While the government hems and haws, U.K. businesses are increasingly concerned over the slow pace of progress, while the budget on Wednesday is unlikely to give them cheer. 
Markets mixed
Overnight, the MSCI Asia Pacific Index slipped 0.1 percent while Japan's Topix index closed 0.2 percent lower. Stocks in China saw a late-session rally erase much of the losses after the crackdown on shadow banking. In Europe, the Stoxx 600 Index was up 0.3 percent at 5:50 a.m. Eastern Time, with Germany's DAX Index also turning higher as markets shrug off Merkel's political difficulties. S&P 500 futures were 0.1 percent lower, the 10-year Treasury yield was at 2.342 percent, and gold was slightly lower. 
$8,000
Bitcoin topped $8,000 for the first time as investors looked past technology concerns that saw it suffer a 29 percent plunge earlier this month. The cryptocurrency's resilience to selloffs has some investors asking whether it can hit $10,000 by the end of the year. While the digital token is still seen by many as a bubble, one measure of volatility suggests it may have "solid economic fundamentals."
What we've been reading
This is what's caught our eye over the weekend.
Before it's here, it's on the Bloomberg Terminal.
LEARN MORE