Failed Merkel Talks a Hiccup, Not Dealbreaker for Stocks
By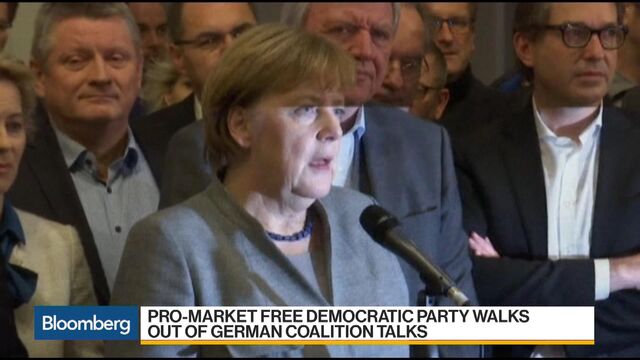 Germany's collapsed coalition talks aren't expected to be a dealbreaker for European equities.
While Chancellor Angela Merkel's failed bid to form a new government damped sentiment toward the region's stocks in early trading, the strength of the German economy will help stock prices withstand the uncertainty, according to traders and analysts. In the meantime, the political impasse may prompt some investors to lock in equity gains before the holidays.
The DAX Index gained as much as 0.7 percent, erasing an earlier decline of 0.5 percent, as Germany's President Frank-Walter Steinmeier urged the country's political parties to return to the negotiating table and avoid the need for new elections. The gauge was trading up 0.5 percent as of 4:33pm in Frankfurt, with automakers adding to gains after Volkswagen AG raised its outlook. The Stoxx Europe 600 Index gained 0.6 percent.

After a month of coalition talks fell apart in Germany just before midnight Sunday, possibilities now include setting up a minority government headed by Merkel's Christian Democratic-led bloc -- an outcome not favored by market participants because it could further undermine political stability. Another scenario could be asking President Frank-Walter Steinmeier to order a national election just months after the last one.
Here is a selection of views from European stock traders and analysts on the latest developments in Germany:
Guillermo Hernandez Sampere, head of trading at MPPM EK in Eppstein, Germany, by phone: "If some investors had a doubt about getting out before Christmas, now they have a reason to do so. But it's not a trigger for a correction -- such a trigger can come from a very dire economic outlook, and we don't have that right now. The market will watch very closely over the next days -- the volume could be quite low as traders await a resolution. I don't think investors would celebrate a minority government -- it's the road to a new election in a year. Europe needs a stable government to handle the current problems."
Michael Hewson, chief market analyst at CMC Markets in London, by phone: "Let's face it, we've had a great run this year, we haven't seen a correction of any meaningful size, and investors may want to lock their profits in. If the DAX drops below 12,870, there is potential for a pullback to the 12,000 level. We are coming off a weak few weeks and the market had made an assumption about Germany that did not materialize."
Markus Huber, a trader at City of London Markets, in a note: "Once the initial shock has worn off, there might be a good chance that this event isn't necessarily being judged as all negative. In case there will be new elections, there is a good chance that Merkel might get a better result, especially as the German economy has been booming since the election back in September, growing much faster than for many, many years. Markets are still in consolidation mode, but as fundamentals remain strong, share prices should soon reach levels where new buying interest appears likely."
Stephane Ekolo, head of global equity strategy at Avalon Capital, by phone: "I'm not quite sure that the relative weakness of the euro this morning will benefit EU exporters this time while the U.S. dollar remains weak versus other currencies. This is clearly bad news for the currency as well as the market in general."
Gilles Prince, head of discretionary portfolio management and deputy chief investment officer at Edmond de Rothschild (Suisse), in an interview: "I have trouble seeing an economic impact on Germany from the country not immediately having a government. I don't think we will be in a Belgium-type situation with no government, but there is a risk of having new elections. It creates some additional uncertainty for the short term in Europe, and markets could be adjusting to this."
— With assistance by Blaise Robinson, and Albertina Torsoli
Quotes from this Article
Before it's here, it's on the Bloomberg Terminal.
LEARN MORE