Balance of Power: Merkel's Convictions Risk Her Downfall
By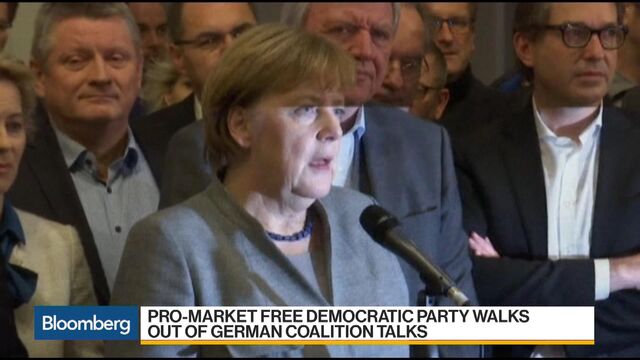 The political cost of Angela Merkel's refugee policy is becoming clear.
The chancellor told Germans they had a moral duty to help when she decided to offer shelter to an unprecedented wave of migrants fleeing war and poverty in 2015. But she failed to convince enough people.
U.S. President Donald Trump derided her decision to welcome some 1.3 million refugees as "insane." Posters of migrants lining up to enter Britain helped swing the Brexit vote, elections in France and the Netherlands were dominated by the backlash, and Austria's government was toppled.
In Germany, protesters angered at the arrivals disrupted Merkel's campaign and the anti-immigration Alternative for Germany came from nowhere to claim 13 percent of the vote, narrowing her options for a fourth-term coalition. Talks collapsed last night when she failed to find a compromise on immigration to bring together the Free Democratic Party and the Greens.
Merkel — Europe's de facto leader — may be seeing the limits of a world view shaped in a post-war East Germany as voters resist her open-door policy.  European decisions on everything from Brexit and Greece to Russian sanctions and French proposals for strengthening the euro will now have to wait. And the Russian hackers who've fueled the populist movements with online propaganda can see their strategy is reaping dividends. 

Sign up to receive the Balance of Power newsletter in your inbox, and follow Bloomberg Politics on Twitter and Facebook for more.
Global Headlines
Mugabe just won't quit | Zimbabwean President Robert Mugabe, 93, doesn't know when he's beaten. His armed forces have taken power, his ruling party plans to begin the process of impeaching him today after dumping him as its leader, and thousands of his citizens celebrated in the streets over the imminent end of his 37-year rule. Yet in a rambling 20-minute televised address last night, he shocked the world by refusing to step down. 
Brexit divorce bill | U.K. Prime Minister Theresa May is getting closer to putting more money on the table to unlock talks before a December summit where EU leaders will decide whether to allow negotiations to move on trade and green-light a transition period for Britain to ease its way out of the bloc. A Brexit squad of 11 ministers meets this afternoon to hash out an improved offer. The EU wants 60 billion euros, but don't expect an amount to be disclosed — that would be politically toxic for May.
Nafta lobbying | Companies and business groups are pressing U.S. lawmakers to convince the White House to back down from Nafta proposals they see as damaging to corporate interests. The fate of talks with Canada and Mexico may hinge on the lobbying, which is being overshadowed by Congress's focus on tax reform. Two Canadian officials said there's no chance of any deal without the U.S. significantly altering its most contentious proposals.
Chile elections | Billionaire Sebastian Pinera took a smaller-than-expected lead in the first round of voting in the presidential election yesterday, throwing his victory in next month's run-off into doubt and weighing on this year's stock rally. Pinera's promises to boost growth and cut taxes earned him the support of investors, yet failed to convince the electorate. He'll face a center-left candidate from the ruling coalition, Alejandro Guillier, on Dec. 17.
China's Rohingya solution | Top Chinese diplomat Wang Yi engaged in some shuttle diplomacy over the weekend to help resolve a crisis that has seen more than 600,000 Rohingya Muslims from Myanmar flee into neighboring Bangladesh. His three-point plan called for a cease-fire, the repatriation of refugees and long-term talks. More discussions are expected when Asian and European foreign ministers meet in Myanmar's capital this week.
And finally... Egypt's morality crackdown has ensnared two top celebrities. "The Voice" judge Shereen Abdel-Razek is heading to court for having insulted the state after joking that it's safer to drink Evian than water from the Nile. Another diva, Shyma, was arrested on charges of encouraging debauchery with a video in which she dances in her underwear and eats a banana in a classroom full of young men. Both have apologized. But with human rights groups saying President Abdel-Fattah El-Sisi's government has arrested scores of gay and transgender people and are now targeting singers, that's not carrying much traction.

— With assistance by Kathleen Hunter
Before it's here, it's on the Bloomberg Terminal.
LEARN MORE