Automakers Rebuke Trump's Nafta Stance in Call for More Free Trade
By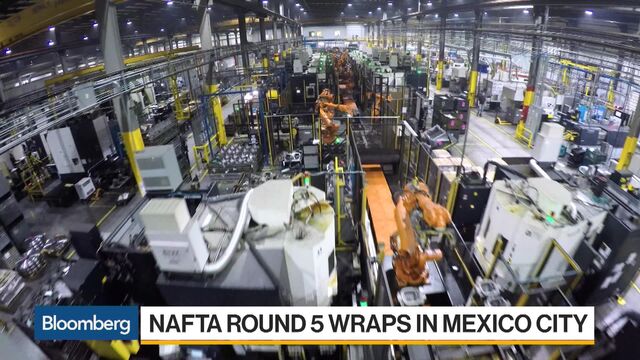 Instead of threatening to pull out of Nafta, the Trump administration should be courting new trade partners to boost U.S. jobs and exports, the head of a U.S. trade association for automobile manufacturers said Monday.
Trump has warned he will pull out of the Nafta trade pact if Mexico and Canada are unwilling to revamp the deal to be more favorable to the U.S. Among the Trump administration's most contentious proposals is one to require automobiles built in the region to source half of their parts from U.S. factories. The fifth round of talks began in Mexico City on Nov. 15 and wrap up on Tuesday.
Current U.S. free trade deals allow automakers to export U.S.-made vehicles without tariffs to 20 countries, representing just 9 percent of the global auto market, said Mitch Bainwol, chief executive officer of the Alliance of Automobile Manufacturers, which represents automakers including General Motors Co., Ford Motor Co. and Daimler AG.
 
"The bottom line is, the problem isn't free trade, but rather it is that we don't have enough free trade agreements," Bainwol said in prepared testimony submitted for a field hearing in San Antonio, Texas, called by Republican Senator John Cornyn on the administration's North America Free Trade Agreement renegotiation.
Mexico has free trade pacts with 45 countries that allow automakers to export vehicles made there to 47 percent of the global auto market without facing tariffs, Bainwol said.
Bainwol warned that proposal and other changes to auto rules proposed by the U.S. in talks now underway would increase costs for automakers and fail to reduce U.S. trade deficits with Mexico, one of the Trump administration's top priorities for the Nafta talks.
"While we wholeheartedly support this Administration's goal of growing U.S. manufacturing and jobs, making Nafta's auto rules of origin more stringent will have the opposite effect," Bainwol said.
Before it's here, it's on the Bloomberg Terminal.
LEARN MORE