AT&T Willing to Offer Remedies for Time Warner Deal, CEO Says
By and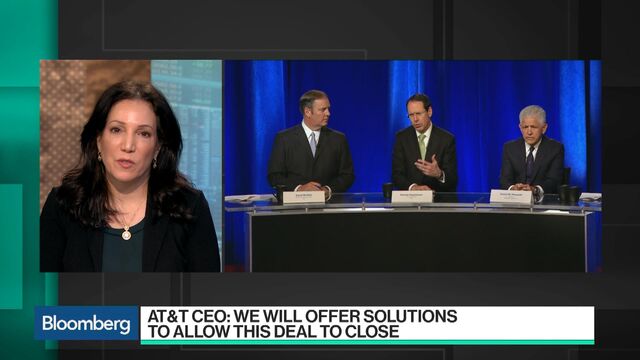 AT&T Inc. is willing to offer solutions to win Justice Department approval of it $85.4 billion deal to buy Time Warner Inc., but said Monday it won't sell CNN to appease regulators.
The Justice Department filed a lawsuit Monday to block the deal, saying the merger of the phone and satellite TV giant with the owner of HBO, Warner Bros. and Turner Broadcasting would increase costs for consumers. AT&T said Monday it will fight the suit in court.
"Some of the best legal minds in the country believed this deal would get approved," AT&T CEO Randall Stephenson said at a press conference following the Justice Department announcement. The suit "stretches the very idea of antitrust law beyond the breaking point."
The company is looking forward to continued talks with Justice Department officials in hopes of hammering out a solution, according to Stephenson, who said the company has already proposed remedies. The CEO said also Monday he doesn't know if the department's objections are tied to President Donald Trump's criticism of CNN, a Time Warner subsidiary.
AT&T attorney Daniel Petrocelli said the company is prepared to go to trial in as little as 60 days.
Before it's here, it's on the Bloomberg Terminal.
LEARN MORE