AQR's Asness Says Active Management, Not Passive, Is Too Big
By and
Passive products absorbed a record $510 billion through 3Q

Even so, AQR boss says market is moving in the right direction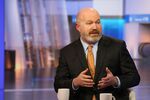 Not every money manager is sounding the alarm on the passive-fund industry, which this year has absorbed a record half-trillion dollars.
Cliff Asness, co-founder of AQR Capital Management, says the steady flow of assets into cheaper, passive funds has been a positive development for the industry. Active managers have historically overcharged for scant returns and the shift toward questioning whether high fees are deserved is a healthy change, he said.
"We're not one of the people who are worried that the world is about to end because we have gone from around 20 percent to 40 percent passive," said Asness, whose Greenwich, Connecticut-based firm oversees $208 billion. "I think there are too many of us being active to begin with."
Investors pumped a record $510 billion into index funds this year through September, compared with $104 billion for active funds, data compiled by Bloomberg Intelligence show. Much of the passive money was in search of lower fees: more than 75 percent of exchange-traded product flows came from the lowest quartile of funds in terms of costs.

As assets seep from active managers, critics of passive investment from Oaktree Capital Group's Howard Marks to T. Rowe Price Group Inc. cite their own importance in price discovery. As indexes grow too large amid an influx of passive money, shares tend to move more in line with one another, creating market distortions, so the thinking goes.
Market Efficiency
But to Asness, there are more than enough active managers to keep markets efficient.
AQR has been the beneficiary of a surge in popularity for quant factor-investing strategies, which sort assets according to traits such as profitability and momentum.
The exchange-traded fund version, often known as smart beta, has ballooned to $709 billion in assets, data compiled by Bloomberg show. AQR is seeking approval from the Securities and Exchange Commission to sell ETFs, but says it has no immediate plans to launch the products.
The prime draw of ETFs and other passive vehicles -- returns at reasonable fees -- is also one of the reasons for the growth in the quant strategies AQR deploys, according to Asness.
"History is on the side of passive, and that will continue," he said.
— With assistance by James Seyffart
Before it's here, it's on the Bloomberg Terminal.
LEARN MORE