A French Uber Rival Wants to Become a Car Insurance Broker
Blablacar has an internal team exploring potential insurance unit, with peer reviews and data on 50M users feeding the brokerage business
By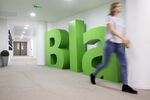 French Uber rival Blablacar has fetched a billion-dollar-plus valuation by attracting some 50 million drivers and passengers to its ride-sharing app. Now it's exploring whether to step on insurers' toes to cash in on that crowd.
A team of 10 at Blablacar's Paris headquarters is experimenting with an insurance brokerage business that would sell packages tailored to ride-sharing, as the company expects more and more drivers and riders to seek additional protection for individual trips, over and above the cost of insuring a vehicle. Blablacar has collected large volumes of data from about 10 years of connecting drivers and passengers, including peer reviews, route information and identity checks.
"The long-term vision is that we could become an insurance broker based on driver ratings and other data we collect about travel routes," co-founder and Chief Executive Officer Nicolas Brusson said in an interview. "We could become a new distribution channel for insurance on the Blablacar user platform. It's a side business that could dominate revenue."
Blablacar is experimenting with several ways to leverage its user base. It has a partnership with carmaker Opel and ALD Automotive to offer leasing packages to drivers who have achieved "ambassador" status – based on number of rides and ratings among other criteria – on the Blablacar platform.
For insurers, Blablacar's move is part of a broader debate on whether people will keep buying their own cars or shift instead to alternatives like ride-sharing, car-pooling and "robotaxis". To adapt, Axa SA has forged links with companies from Uber Technologies Inc. to Deliveroo and has a unit called Axa Partners dedicated to growing revenue from such partnerships. It has a deal with Blablacar, and Axa's protection is included in every trip booked in France, the U.K., and elsewhere in Europe.
"We bring reassurance to these platforms to help them acquire new users," Axa's chief in France Jacques de Peretti said this month in a BFM radio interview. "Having a big name like Axa bringing its protection, it helps business at these platforms."
A venture into brokerage would rely on Blablacar's core ride-sharing service and the company's ability to use trust indicators collected on its platform as a steer for packaging, and maybe even pricing insurance offers. It would expand the company's revenue sources from the current fee-driven model and beyond only France.
Unlike Uber, Blablacar drivers split costs with their passengers but don't profit from chauffeuring people around, and the company cashes in only on a fee per trip booked and only in France. In other markets, from Russia to Brazil, Blablacar hasn't started charging users for its service.
After a phase of growing into some 22 countries, the company, which employs about 400 people, last year decided to refocus on high-growth places such as Russia and Brazil. It's raised more than $300 million and has backing from investors including Insight Venture Partners and Vostok New Ventures.
Before it's here, it's on the Bloomberg Terminal.
LEARN MORE