Macron's Popularity Recovers as French See Him Keeping Promises
By and
Le Maire says reforms will take two years to cut joblessness

More than half of French Republicans back Macron's leadership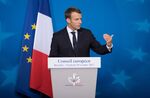 President Emmanuel Macron's popularity climbed to its highest in four months as French voters credited him for keeping his campaign promises, an Ifop poll showed Sunday.
About 46 percent of adults say they're satisfied with his performance, up four points from last month, according to the survey for the Journal du Dimanche. It's his highest rating in that series of polls since July.
After being elected in May, the 39-year-old president's popularity dipped precipitously a few months later amid gaffes and preparations for budget cuts. Since then, Macron has implemented both a landmark reform of labor law and pushed through a 2018 budget as economic growth improves. His popularity is now higher than Francois Hollande's was six months into his mandate, though it remains below the level of Nicolas Sarkozy in November 2007.
"The two pillars of his popularity are that he is keeping his promises and that the French want to leave him some time to deliver results," Ifop pollster Frederic Dabi said on Europe 1 radio.
More than half of people who support France's Republican party approve of Macron's leadership, according to the poll.
Finance Minister Bruno Le Maire agreed that Macron's effort to be consistent with his campaign promises is critical in the eyes of the population and added that it will probably take a couple of years for economic reforms to start reducing unemployment significantly.
"For the first time in a long time you have a president who is putting in place the program he campaigned on," Le Maire said on Europe 1. "We need two years. It will probably take that long before we start to see a deep change in the employment situation in our country."
France's unemployment rate stands at 9.7 percent, roughly double that in the U.K. and in Germany.
Before it's here, it's on the Bloomberg Terminal.
LEARN MORE