As Calm Ends for Japan Stocks, Investors Brace for More Disorder
By and
'Volatility feels like it'll get bigger': JPMorgan's Shigemi

Foreigners turn net sellers of Japan equity futures last week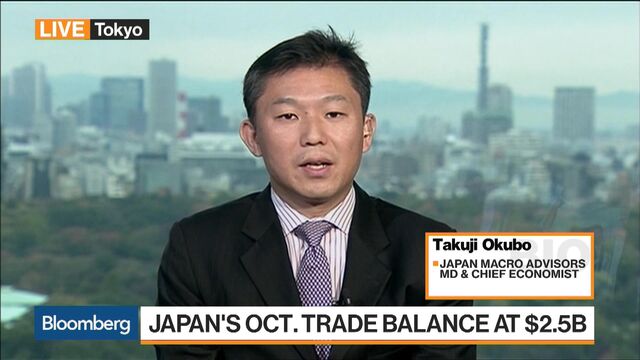 Bryan Goh says there's no clear reason why Japanese stocks suddenly started falling after a turbocharged rally sent them to their highest in a quarter century.
What the chief investment officer of Bordier & Cie in Singapore will say is that volatility was so low for so long that it's hardly surprising the calm finally broke. Yoshinori Shigemi of JPMorgan Asset Management Co. in Tokyo takes a similar line. He doesn't know where the Nikkei 225 Stock Average will go from here, but he expects the gauge's once-smooth road to get a lot more bumpy.
Turbulence has returned in Japanese stocks after months of calm. The Nikkei 225 started swinging wildly Nov. 8, a day after closing at its highest since January 1992, and spent the next five days in a tailspin. Then the measure started to recover, although even that was tempered Friday when it pared most of what was once a 1.8 percent gain. When the music finally ended, the Nikkei had posted its first weekly decline in 10 weeks.

"It's hard to say whether markets will go up or down from here," Shigemi, a global market strategist at JPMorgan Asset in Tokyo, said in a phone interview. "But volatility feels like it'll get bigger."
The Nikkei Stock Average Volatility Index jumped to the highest since April early in the recent selloff and remained close to that peak on Monday. Some investors and analysts have pointed to hedge funds taking profit before they close their books for the year, creating a tug-of-war with bullish longer-term investors such as pension funds.
After big purchases in September followed by five straight weeks of net-buying, overseas investors turned net sellers of equity futures. Foreigners sold net 151.6 billion yen ($1.35 billion) worth of Nikkei 225 and Topix futures and minis during the week ended Nov. 10, according to latest data from the Japan Exchange Group Inc.

Still, if that's the case, it's not like it's a conflict between bulls and bears.
"Markets are rough these days," said Tetsuo Seshimo, a portfolio manager at Saison Asset Management Co. in Tokyo. "It wouldn't be weird to see the Nikkei 225 swinging between a gain of 1,500 and a drop of 1,500" in the coming days, he said. "But it's not like the fundamentals have changed."
— With assistance by Emi Urabe
Before it's here, it's on the Bloomberg Terminal.
LEARN MORE