Lebanese Premier Set to End Two-Week Exile After Paris Trip
By and
Lebanese prime minister Hariri is in Paris to meet Macron

Lebanon's president told Macron Hariri will be back Wednesday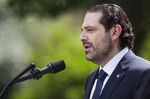 Prime Minister Saad Hariri plans to return to Lebanon in time for independence celebrations on Nov. 22 after a two-week absence sparked concern that his country may once again turn into a battleground for a showdown between Saudi Arabia and Iran.
French President Emmanuel Macron and Hariri were set to meet at noon for talks in Paris Saturday, followed by lunch at the Elysee Palace. Lebanon President Michel Aoun told his French counterpart that Hariri intends to attend next week's independence ceremony, which commemorates the end of France's mandate in the country in 1943, according to an aide.
Hariri, 47, has been away from Lebanon since his shock resignation announcement from Saudi Arabia on Nov. 4, which sparked fears of an escalating regional conflict between the kingdom and Iran. The Saudi government has denied accusations it was holding Hariri against his will. The kingdom recalled its ambassador to Germany in response to comments made by Foreign Minister Sigmar Gabriel that the official Saudi Press Agency did not specify.
Hariri weighed in on the spat, suggesting that Gabriel has accused the kingdom of holding him hostage. "To say that I am held up in Saudi Arabia and not allowed to leave the country is a lie. I am on the way to the airport, Mr. Sigmar Gabriel," he said on Twitter.
In limited public comments and on Twitter, Hariri has sought to dispel speculation that Saudi Arabia asked him to resign because he wouldn't confront Hezbollah, an Iranian-backed Shiite Muslim group that plays a key role in Lebanon's fragile government. The group is considered a terrorist organization by countries including Israel and the U.S., and it has provided crucial military support to President Bashar al-Assad's regime in Syria's war.
Macron, who met with Saudi Arabia Crown Prince Mohammed bin Salman in Riyadh, said last week that the two agreed that Hariri "be invited for several days to France." He also reiterated France's pledge to help protect Lebanon's "independence and autonomy." Hariri would be welcomed in France "as a friend," Foreign Minister Jean-Yves Le Drian said a press conference in Riyadh on Thursday after meeting with Saudi authorities. 
Calming Tensions?
French officials have said they still regard Hariri as Lebanon's prime minister since Aoun rejected his resignation on the grounds that it must be handed over on Lebanese soil.
Macron on Saturday welcomed Hariri to Paris in French and Arabic in a Twitter post that included a video of the two men walking hand in hand.
Aoun called Hariri a Saudi "hostage" on Wednesday, and said the developments are "an act of aggression against us and our independence." As the French initiative unfolded, Aoun said on Twitter that he "hopes the crisis is over." The "door to a resolution opened with Prime Minister Hariri accepting an invitation to visit France," he said.
"I recognize all the regional crises that exist, and involve all the powers in the region," Macron said on Friday. "It's in everyone's interest to keep calm, and find an equilibrium."
Macron and Hariri have met before. In January the then French presidential candidate traveled to Beirut where he said that "France will always stand by Lebanon." Hariri then said of Macron: "What he represents -- youth, a way of doing politics -- is important," according to Agence France-Presse.
Old Ties
The two men do not plan to make public comments, according to the Elysee press office. Hariri's press office didn't have details on his Paris agenda. Separately, the Saudi crown prince will visit France early next year, Le Drian said at the news conference in Riyadh.
Hariri and his family have deep connections to France, dating back to a friendship forged in the 1980s between Saad's father Rafiq and Paris mayor Jacques Chirac, who went on to become president of France.
In 2005, then-President Chirac and his wife flew to Beirut to pay condolences less than 48 hours after Rafiq was killed in a car bombing. Chirac then cut relations with Syria, which he blamed for the attack.
Chirac later lived in a Hariri-owned property in Paris. Saad kept close relations with Presidents Nicolas Sarkozy and Francois Hollande, with the latter awarding him a Commander of the Legion of Honor, one notch below the highest national decoration.
— With assistance by Gregory Viscusi, and Dana Khraiche
Before it's here, it's on the Bloomberg Terminal.
LEARN MORE