Dalio Says Initiative Needed to Probe Economic Divide
By
Bottom 60% face myriad problems, billionaire says in interview

Founder of Bridgewater says U.S. becoming more like Brazil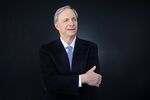 Billionaire Ray Dalio is calling for the creation of a commission to tackle the growing disparity between the wealthiest Americans and those dwelling in the bottom 60 percent of the economy, whom he says face "rising death rates" and stagnant incomes.
"There should be a commission or an initiative" to address the issue, Dalio said in an interview on CNN's "Fareed Zakaria GPS" that will air on Sunday. Otherwise, he said, "the existing polarity" between the top 40 percent of the economy and the bottom 60 percent sets the stage for "a very serious social and political issue" during any future economic downturn.
Dalio, 68, the founder of hedge fund Bridgewater Associates, which manages about $160 billion in assets, compared the U.S. picture to that of Brazil, where a recession has exaggerated one of the world's widest gaps between rich and poor.
Already in the U.S., "the top one-tenth of one percent of the population's net worth is equal to the bottom 90 percent combined," and increasing automation threatens to widen the divide by eliminating jobs, Dalio said, according to a transcript provided by the network. "Technology in replacing people is an important force, and so if we go forward, you're going to create a two-tier economy."
Dalio, who's worth $14.6 billion according to figures compiled by Bloomberg, has increasingly been highlighting the social and political risks of growing economic inequality. In a post on LinkedIn in October, Dalio detailed how stark economic differences translate into lower savings, greater premature deaths and spotty health care for the bottom 60 percent of the economy.
"It is the issue of our time," he said on CNN.
(
Corrects percentages of economy in first, second paragraphs.
)
Before it's here, it's on the Bloomberg Terminal.
LEARN MORE