Carige Investors Agree to Back Share Sale
By and
Banks will underwrite capital hike as core investors subscribe

ECB had set year-end deadline for Carige to shore up finances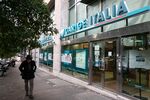 Banca Carige SpA reached agreement with a group of banks to underwrite a share sale of about 500 million euros ($590 million) after key investors pledged their support, allowing the lender to proceed with its restructuring plan.
Malacalza Investimenti, Carige's main investor, agreed to buy 17.6 percent of the stock, while the second-biggest shareholder Gabriele Volpi agreed to oversubscribe to the offer, increasing his stake to 9.9 percent from 6 percent, the Genoa-based lender said in a statement early Saturday. Credit Suisse Group AG, Deutsche Bank AG and Barclays Plc will underwrite unsold shares, acting as global coordinators and joint bookrunners.
The European Central Bank has given Carige until the end of the year to bolster its finances under a three-step plan that includes offloading assets and the conversion of subordinated notes. The first step, a debt swap was completed last month. Failure to complete any part of the program would call into question the future of the bank, which is saddled with heavy losses on bad loans.
Carige roiled Italian financial stocks Thursday when it called a meeting of directors, saying it did not yet have underwriters in place for the capital increase. Trading of shares was halted in Milan and the stock remained suspended on Friday. The lender's troubles reignited concerns that some Italian lenders remain at risk even after high-profile clean-ups and the recent rescue of Banca Monte dei Paschi di Siena SpA and two lenders in the Veneto region.
Shares of another struggling bank, Credito Valtellinese SpA, also remained suspended in Milan on Friday after declining 19 percent Thursday.
Carige will offer current shareholders about 500 million euros of new shares, while another 60 million euros of new stock will be offered to subordinated bondholders involved in the debt swap. The bank will sell new shares at 1 cent per share and offer 60 new shares for every one held. Carige's investors can buy stock from November 22, and the rights will trade from November 22 to Dec. 6.
Carige also announced it entered exclusive talks with Credito Fondiario SpA for the sale of 1.2 billion euros of non-performing loans and its loan-management unit.
— With assistance by Tommaso Ebhardt, Chiara Vasarri, and Chiara Albanese
Before it's here, it's on the Bloomberg Terminal.
LEARN MORE