You Must Be Kidding! EU's Tusk Laughs at U.K.'s Brexit Challenge
By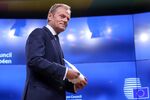 European Union President Donald Tusk thinks U.K. Brexit Secretary David Davis's view that it's the EU's turn to compromise is laughable.
"I really appreciate Mr. Davis's English sense of humor," was all Tusk would say on the matter during a news conference at an informal meeting of EU leaders in Gothenburg, Sweden.
He was responding to Davis's remarks to the BBC earlier in the day.
Britain has "made all the running," Davis said. Now, "I want them to compromise."
The EU is demanding the U.K. make further concessions on the divorce bill, which the bloc thinks should be about 60 billion euros ($71 billion), and gives assurances on keeping an open border between the two Irelands.
The problem for Davis is that the EU holds the cards. All 27 leaders must agree that the U.K. has made enough assurances before they'll allow trade talks to start.
Before it's here, it's on the Bloomberg Terminal.
LEARN MORE