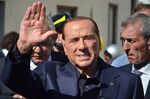 Italy's all-too-familiar postwar brew of government dysfunction, economic stagnation and toxic debt has investors worried again, even as the specter of populist revolt recedes elsewhere in Europe. The next parliamentary elections in the euro region's third-biggest economy are due in early 2018 and will test, among other stress points, the country's ambivalent relationship with the single currency, its towering debt and a troubled banking system still trying to dispose of decade-old poisonous holdings.
1. When will elections take place?
Early next year, with March being the most likely month, according to government officials and lawmakers. The vote has to take place by late May. Parliament set the stage for the vote by passing an electoral law in October that ironed out differences between the lower house and the Senate and, crucially, will encourage parties to build alliances.
2. How might the electoral law affect the outcome?
It gives a green light for parties to fight for seats as coalitions. That has angered the anti-establishment, euroskeptic Five Star Movement, which called it "a coup d'etat" by mainstream forces. Five Star has ruled out pre-election pacts.
3. What do the opinion polls say?
Five Star is neck-and-neck with the ruling center-left Democratic Party of Prime Minister Paolo Gentiloni, according to surveys. Both narrowly trail a possible center-right coalition of the Forza Italia party of ex-premier Silvio Berlusconi, the euroskeptic and anti-migrant Northern League and the small, far-right Brothers of Italy; that bloc won regional elections in Sicily on Nov. 5. For now, none of these three groups appears to have enough support to win a parliamentary majority on its own.
4. What happens between now and the elections?

Some very difficult decisions. First is a budget law for 2018. The budget, which has to be approved by parliament by the end of the year, is supposed to lower the structural deficit. Gentiloni, whose party has a razor-thin majority, is also overseeing state intervention to help Banca Monte dei Paschi di Siena SpA, Italy's oldest bank, as well as Banca Popolare di Vicenza SpA and Veneto Banca SpA. As his government draws to an end, Gentiloni may try to push through parliament a controversial bill giving citizenship to immigrants' children born in Italy.
5. How serious is Italy's debt problem?
At more than 130 percent of gross domestic product, Italy's debt is second-highest in the euro area, after Greece. The European Commission called the debt "a major source of vulnerability" for Italy and has been overseeing the country's pledges to reduce spending. An election victory by Five Star, in addition to raising questions about Italy's euro membership, would fuel doubts over the sustainability of the country's debt.
6. How unhealthy is Italy's banking system?
Government measures on Monte Paschi and the two Veneto banks have defused a big source of financial and political stress in the euro zone for the last two years. But the underlying problems remain, including cronyism with many lenders too entwined with politicians, unions and foundations of all shapes and sizes. The losses inflicted on savers will likely feature heavily in the election campaign, with controversy fueled by a parliamentary investigation into the sector's woes.
7. How likely is it that Italy would abandon the euro?
Both Five Star and the League have softened their opposition to the euro as Italy overcomes the longest recession in the nation's history. Luigi Di Maio, 31, Five Star's candidate for the premiership, has called a referendum on Italian membership of the euro area "a last resort" to force reforms of the European Union. But pulling Italy out of the euro would require cross-party political backing as well as a tortuous legislative process. A constitutional amendment would be necessary even before calling a referendum.
8. How are markets taking it all?
Markets are concerned not just by the prospect of a hung parliament, but also by Five Star's inexperience at national level and a possible referendum on Italy's membership of the euro area. Five Star's program for government includes overhauling banks and breaking up the European Stability Mechanism and the troika that oversaw bailouts from Greece to Ireland. Add to that worries about how Italy could suffer from an end to the European Central Bank's quantitative easing program.
9. So who is likely to rule Italy next?
If Five Star comes out on top, Mattarella could give its candidate -- Di Maio, the deputy-speaker of the lower house -- an exploratory mandate to try to form a government. But Five Star would have a hard time finding allies, although League leader Matteo Salvini has made overtures to it. One scenario is a "grand coalition" with the PD and Berlusconi's Forza Italia. Just who would lead such a coalition is any body's guess. PD leader and ex-premier Matteo Renzi, who is touring Italy by train for two months, is under attack inside his party and seeking to smooth relations with the rest of the center-left. Berlusconi is vying with Salvini for leadership of the center-right and is banned from running for office after a 2013 tax-fraud conviction. Perhaps premier Gentiloni will serve again.
The Reference Shelf
Before it's here, it's on the Bloomberg Terminal.
LEARN MORE