Puerto Rico Power Chief Abruptly Resigns as Congress Weighs Aid
By and
Executive's resignation removes objection to federal aid

Commonwealth angling for $94 billion infusion from Washington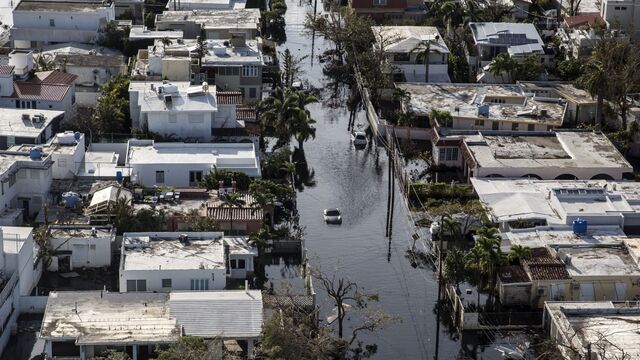 The resignation of the head of Puerto Rico's power agency made clear that Governor Ricardo Rossello wants to remain in charge of the battered island's recovery.
As Congress on Friday received a request for aid to rebuild after Hurricane Maria, Chief Executive Officer Ricardo Ramos Rodriguez quit after weeks of criticism over a $300 million no-bid reconstruction contract. He gave no reason for his immediate departure in the terse 53-word statement from the Puerto Rico Electric Power Authority, but Rossello made clear his resignation was welcomed.
"There was a series of distractions, and the decision was made to go in a different direction," said Rossello, who by law appoints most members of the agency's board.
 
The upheaval is part of an effort to keep aid flowing to the U.S. commonwealth of 3.4 million people, which was driven into bankruptcy in May by its unpayable $74 billion public debt. Hurricane Maria ravaged the island in September, and about 168,000 residents have fled as the lack of electricity stymied the recovery. On Friday, the power authority was generating only about 40 percent of the electricity needed.
How Puerto Rico Managed to Dig a Deep Financial Hole: QuickTake
With many still lacking basic services and its economy slowed to a halt, prices of Puerto Rico's benchmark bonds have tumbled to fresh lows as investors speculate that any payouts will be less than anticipated. The commonwealth is considering suspending debt-service payments for five years, a lawyer for the territory's federal oversight board said this week, in the first indication of how the devastation caused by Hurricane Maria will affect creditors.
Prepa, which is also operating in bankruptcy, has floundered in the face of the disaster that destroyed its dilapidated grid.
Ramos this week faced intense questioning before a U.S. Senate committee about a $300 million contract Prepa awarded to a little-known company based in Whitefish, Montana -- Whitefish Energy Holdings -- to fix the grid immediately after the storm. The company had few obvious qualifications to perform the work, and the contract had a provision that prohibited audits.
The deal, which has since been canceled, became a flashpoint.
'Death Match'
After the contract was revealed, the fiscal control board that Congress installed as a condition of allowing the bankruptcy tried to appoint its own emergency manager for Prepa. The governor's administration contested the move in court, arguing that it impinged on Puerto Rico's sovereignty. A judge struck down the proposed appointment, but urged both parties to work together rather than fight a "death match in which the winner takes all."
Representative Rob Bishop, a Utah Republican and chairman of the House Natural Resources Committee, lectured Rossello at a Tuesday hearing on the need to close what he called a "credibility gap."
Puerto Rico can scarcely afford distrust in Washington: The commonwealth has asked lawmakers for $94 billion in federal aid it says it needs to rebuild. Rossello said in a letter to President Donald Trump released Monday that the electric utility alone needs $18 billion.
But on Friday, the White House asked Congress for a $44 billion aid package that also includes funds for Texas and Florida. Opponents rushed to call it inadequate.
Dark Nights
"The Trump administration's request does not come close to meeting the needs of victims of recent natural disasters," Senate Appropriations Committee Vice Chairman Patrick Leahy said a news release. "This is wholly inadequate and downright insulting, especially for the people of Puerto Rico who, eight to ten weeks after Hurricanes Irma and Maria, are struggling to get the lights back on and are looking to Congress for help."
However, White House Press Secretary Sarah Sanders said the assessment of Puerto Rico's situation isn't complete. The administration anticipates making additional requests for funding, she said.
Emails and phone calls to representatives of Rossello and Puerto Rico's non-voting member of Congress weren't returned Friday. Jose Luis Cedeno, a spokesman for the fiscal control board, declined to comment on Ramos's resignation or the size of the aid package. 
In a government statement confirming Ramos's resignation, Ernesto Sgroi Hernandez, the president of the governing board, said the management changes would "bring best-in-class thinking to the future of Prepa, while at the same time continuing the critical restoration and recovery efforts."
Engineer Justo L. Gonzalez Torres is set to be Prepa's interim executive director while officials search for a permanent replacement. He's the director of power generation at the agency, where he's worked since at least 1998, and holds a bachelor's of mechanical engineering from the University of Puerto Rico.
Superstorm Sandy
A new transformation advisory council, designed to provide guidance to the Prepa board and management team, will be led by David Owens, a former executive vice president of the Edison Electric Institute who was involved in the power industry's response to Superstorm Sandy in 2012, and served as a formal liaison to the Federal Emergency Management Agency.
San Juan Mayor Carmen Yulin Cruz said in a telephone interview that Ramos's departure "is a first step to making sure that there is a plan that is feasible, that is doable and that is credible."
Long after the Whitefish affair reached Washington, Ramos defended its hiring. But then Rossello stepped in to cancel the contract. Asked whether he'd lost confidence in Ramos, he demurred, saying there were active investigations into the matter. 
The change at the top was foretold, said Ramon Cruz, a former member of the Puerto Rico Energy Commission, the regulatory agency that oversees Prepa. "We could see this coming," Cruz said. "There are still many questions that remain unanswered."
— With assistance by Ezra Fieser, Naureen S Malik, Toluse Olorunnipa, Erik Wasson, and Jennifer A Dlouhy
Before it's here, it's on the Bloomberg Terminal.
LEARN MORE