Puerto Rico Loses Most Workers in 21 Years After Hurricane
By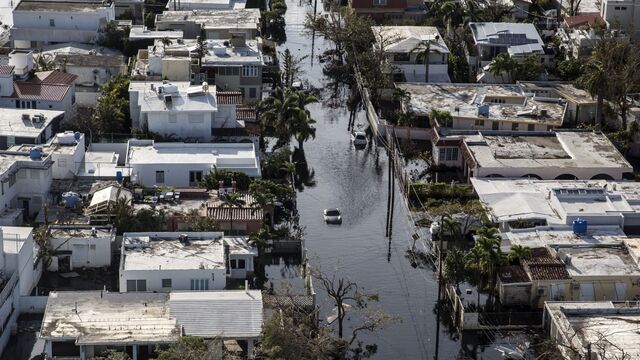 Puerto Rico employers reduced payrolls in October by the most in 21 years after Hurricane Maria devastated the island and knocked out power for weeks to most of the territory, Labor Department figures showed Friday.
The drop totaled 3.6 percent of payrolls, or 31,600 people -- the biggest drop since 1996 -- reducing nonfarm employment to 842,000, the lowest level since 1991. The report provides the most complete look at Maria's impact on Puerto Rico's job market, after storm damage prevented the collection of September figures that would have normally been released last month. The Labor Department said response rates from Puerto Rico employers for October were below average.

The dire situation in Puerto Rico -- more than half of the island remains without power, about two months after the storm -- is spurring an exodus to the mainland U.S. The head of the financial oversight board for the territory said earlier this month that 5 percent of the population, or 170,000 people, may leave by the end of the year.
Filings for unemployment benefits in Puerto Rico surged to an 11-year high at the start of November as the government processed a backlog following the storm, according to separate weekly data from the Labor Department.
At a panel discussion in San Juan convened Thursday by the territory's federal oversight board, economist Jose Villamil said the population could decline to less than 3 million by 2026, a drop of more than 400,000 from the most recent count. Another economist said gross domestic product could shrink by as much as 15 percent in the fiscal year that ends in June, depending on how long it takes to restore power throughout the island.
The same report on Friday showed Florida residents returned to work in droves in October following a record decline in employment the previous month, as fallout from Hurricane Irma faded.
The state added 125,300 workers last month, while Texas gained 71,500 jobs as recovery efforts from Hurricane Harvey intensified.
National data on Nov. 3 showed U.S. employers adding 261,000 jobs in October, including an 89,000 rebound in workers at restaurants and bars as hurricane effects largely faded away. The country-wide numbers are calculated separately and don't represent a sum of the individual states.
Before it's here, it's on the Bloomberg Terminal.
LEARN MORE