Merkel Pushes Ahead With Coalition Talks as Hurdles Remain
By , , and
German leader seeking to clear way for fourth-term government

Four potential coalition partners may need weekend for a deal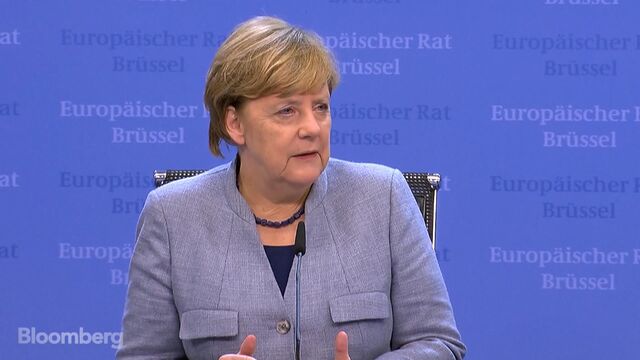 German Chancellor Angela Merkel is pushing ahead with discussions on forming a four-party government after all-night talks with potential coalition partners produced momentum without resolving key differences.
Seeking to avert a crisis that would threaten her fourth term, Merkel and her Christian Democrat-led bloc reconvened Friday with the Free Democrats and Green party. After the chancellor initially set an informal Thursday deadline to wrap up a month of exploratory talks and move forward to concrete coalition negotiations, officials said several more days may be needed.

"It isn't easy," Merkel told reporters in Berlin. "We raised a host of very, very detailed topics in the exploratory talks, and so it's not going to be entirely straightforward to tie the loose ends together."
Discord over sharing financial risks in the euro area, cutting carbon emissions and limiting immigration have hamstrung Merkel, Europe's longest-serving leader, who won a fourth term in September but is stuck with a caretaker government. Even a deal to move ahead now would be only an intermediate step, followed by detailed talks on a policy blueprint for the next four years.
The parties remain "far apart" on issues including immigration, climate change, fiscal policy and internal security, senior FDP lawmaker Wolfgang Kubicki told ARD television Friday.
"I'm struggling to see how we'll reach an agreement quickly," Kubicki said. "There's always the suspicion that you're being taken advantage of, which is not a good basis for compromise."
Read more: How a Fourth-Term Merkel Coalition Could Shake Up Germany
Volker Kauder, the head of the CDU/CSU parliamentary caucus, told reporters success was still possible.
"We've spent four weeks together in these exploratory talks," Kauder said, shortly after talks resumed. "They must now come to a conclusion this weekend."
Germany's domestic conflicts, which reflect an increasingly splintered political landscape, are playing out on the global stage. Merkel has put euro-area policy on hold until there's a new government. At a United Nations climate conference in Bonn this week, she flagged Green-led demands for curbing coal as a point of dispute in coalition talks.
Limiting the appetite for conflict on all sides is the risk of a repeat election if the talks collapse. Merkel's bloc won in September with its lowest share of the vote since 1949, while the anti-immigration Alternative for Germany party, which campaigned against Merkel and the rest of the political establishment, entered parliament with 12.6 percent.
The head of the Berlin-based DIW economic institute, Marcel Fratzscher, said Friday there was "no alternative" to a coalition of Merkel's CDU/CSU bloc, the FDP and the Greens, and that all four parties would perform worse in the event of a new national vote.
In such a scenario, the AfD would be the only winner, Fratzscher told Bloomberg in an interview, adding that he was "certain" Merkel's planned coalition would be in place by Christmas.
Next Obstacle
While negotiators narrowed differences on cutting carbon emissions, immigration remained a major sticking point Thursday, according to two party officials who asked not to be identified. The key dispute is over a moratorium on family members joining asylum seekers in Germany, which the Greens want to lift and Merkel's Bavarian ally, the CSU, supports.
This week's goal is to list agreements and disputes in a way that allows all parties to sign off on starting formal coalition talks, which are expected to take weeks. If that hurdle is cleared, the next obstacle may be a Greens convention on Nov. 25 to vote on whether to proceed.
Should the talks fail, Merkel's options will narrow. The Social Democrats, with whom she has governed since 2013, say they aren't interested in another alliance with her after the party fell to its worst electoral defeat since World War II. That would leave Merkel with two scenarios that postwar Germany hasn't yet seen: a minority government or an election repeat most want to avoid.
German SPD caucus chairwoman Andrea Nahles reaffirmed on ARD Friday that her party would not be willing to join a new coalition with Merkel's bloc and that new elections would be needed if the current talks fail.
— With assistance by Tony Czuczka, and Chad Thomas
Before it's here, it's on the Bloomberg Terminal.
LEARN MORE