Erdogan Ends Rates Truce, Decrying Central Bank's `Wrong Path'
By and
President reiterates his unorthodox views on inflation, rates

Speech stops short of calling for an immediate rate cut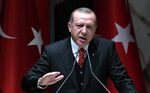 Turkish President Recep Tayyip Erdogan signaled an end to his uneasy truce with the new central bank chief, attacking the institution now run by Governor Murat Cetinkaya for its repeated revisions to economic targets and "wrong path" to tackle soaring inflation.
"They say central banks are independent so we shouldn't interfere. This is the end result because we haven't interfered," Erdogan said in a speech on Friday in Ankara. "Results speak for themselves."
Erdogan is the world's foremost proponent of the idea that high interest rates cause high inflation, a view that's unsettled Turkish markets and created tensions with the professionals at his own central bank, who adhere to the orthodox economic theory that says the opposite is true. In his frequent public lashings of former central bank chief Erdem Basci for keeping interest rates high, Erdogan went so far as to accuse him of treason. Cetinkaya, who took the job in 2016, had largely managed to avoid such vitriol. Until today.
"We will solve this, things can't go on like this," Erdogan said, vowing to step up a fight against what he calls the "interest rate lobby," an alleged cabal of financiers and lobbyists that he says is conspiring to keep Turkey's interest rates artificially high. "We can't make this a taboo," he said, rejecting the idea that central bank independence means he shouldn't comment on interest rate policy.
'Solid Footing'
The lira plunged to new records as Erdogan spoke, dropping as much as 1.1 percent to 3.9035 per dollar,its weakest on a closing basis. The Borsa Istanbul Banks Index fell as much as 2.4 percent, and the yield on 10-year government bonds rose 16 basis points to a record 12.55 percent.
"We're back at Erdoganomics 101," said Cristian Maggio, head of research at TD Securities in London. "I would have expected him to start shouting at the central bank only once the lira was on a more solid footing versus the U.S. dollar and euro. We're clearly not there yet, so that makes me think that he's more concerned about growth, a concern that we share."
The comments come as a slew of economic stimulus measures implemented in the wake of a 2016 coup attempt have helped push growth up while driving core inflation to 11.8 percent in October, the highest since 2004. Though stopping short of calling for an immediate interest-rate cut, Erdogan has a long-standing aversion to high rates, and the speech indicates his growing frustration with lending costs, which the government says are discouraging investment and holding back growth.
The government may meet representatives of some state banks next week, Erdogan said. Last month, he called on the lenders to lower interest rates on loans to help spur growth. There's no indication yet that they've done so.
The renewed push for lower rates is the opposite of what most economists would like to see from Turkey, said Nigel Rendell, a senior analyst at Medley Global Advisors in London. The traditional view is that the central bank should raise interest rates, which, while it might create a painful temporary slowdown in growth, would help to bring down runaway inflation and address some of Turkey's external imbalances.
"The financial markets view rates as being too low," Rendell said. "Turkey has a loose monetary policy and the current settings are not a recipe for the central bank -- whose credibility is draining away -- to conquer inflation. This is all going to end in tears."
— With assistance by Tugce Ozsoy
Quotes from this Article
Before it's here, it's on the Bloomberg Terminal.
LEARN MORE