Draghi Says Pay Gains to Ease ECB Pressure as Labor Tightens
By and
ECB president says patience needed as recovery feeds through

Euro-area employment upturn is a "remarkable success story"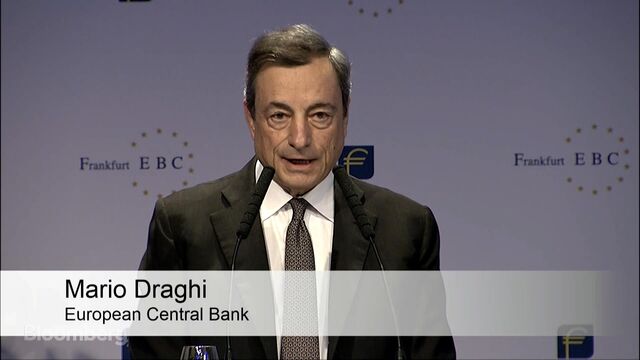 Mario Draghi predicted that euro-area workers will soon start winning bigger pay increases, relieving pressure on his European Central Bank to keep supporting the economy.
The ECB president, who has for years struggled to combat low inflation, reiterated on Friday that a "key issue" keeping prices down is that wages aren't rising. But after pumping in monetary stimulus that has helped bring unemployment down and spur consumption, he now sees a nascent change.

"With well-anchored inflation expectations, the effects of past low inflation in wage formation should not be persistent," Draghi told an audience of bankers and policy makers in Frankfurt. "As the labor market tightens and uncertainty falls, the relationship between slack and wage growth should begin reasserting itself. But we have to remain patient."
Any sign workers are winning more pay will be crucial in pushing inflation closer to the ECB's goal and allowing it to unwind the extraordinary measures, including bond purchases and negative interest rates, that have been pursued for years. Officials have already decided to pare back some support from January and Draghi noted that economic growth in the region is "clearly improving," but he also warned that progress on consumer prices remains "incomplete and partial."
The euro rose after his remarks, and was up 0.3 percent at $1.1801 at 11:42 a.m. Frankfurt time.
"Wage growth is key because it shapes the outlook for underlying inflation," said Bloomberg economist Maxime Sbaihi. "The good news for the ECB is that compensation per employee is trending upward again; the bad news is that the growth rate remains too weak to be confident about inflation returning to target."
Germany, which has record-low unemployment and an economy running at full capacity, might be one signal. IG Metall, with 2.3 million members the nation's biggest labor union, has asked for a 6 percent pay rise, well above the ECB's inflation goal of just under 2 percent. Still, no deal has yet been reached and the final settlement is typically lower than the initial offer. The union is also seeking non-pay benefits such as the option for shorter working hours.
Governing Council member Jens Weidmann -- who heads Germany's central bank -- spoke at the same conference as Draghi, and argued that a slightly less supportive monetary policy in the next year and a clear end-date for quantitative easing would have been justified.
"We must be attuned to the fact that the economic recovery has progressed further than inflation figures currently suggest, and that domestic price pressures will gradually increase in keeping with a path toward our definition of price stability," Weidmann said.
Policy makers' optimism is fed by the region's labor-market recovery. Employment in the 19-nation bloc is at a record high while joblessness has fallen to the lowest level since 2009. At the same time, the participation rate has risen 2 percentage points above the pre-crisis level, driven in particular by women and older people joining the workforce.
"The fact that unemployment has fallen so much while labor participation has been rising is a remarkable success story," Draghi said.
The strengthening recovery was one reason why, at the ECB's most recent policy meeting on Oct. 26, the Governing Council decided to halve the pace of its monthly bond purchases to 30 billion euros ($35 billion) starting in January, while extending the program until at least September.
Draghi said that decision "mechanically" helped reinforce expectations that interest rates will stay at current levels for a long time. As a result, the signaling effect of bond-buying has "naturally increased in prominence relative to the duration effect," he added.
His comments echo remarks by ECB chief economist Peter Praet on Wednesday, who said that policy guidance will focus increasingly on interest rates as the end of quantitative easing nears.
Quotes from this Article
Before it's here, it's on the Bloomberg Terminal.
LEARN MORE