China's $38 Trillion Off-Balance Sheet Binge Poses Little Risk: UBS
Bloomberg News
Items pose little risk to financial system, UBS analyst says

Analyst Jason Bedford studied 282 bank filings for report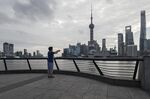 The Chinese finance sector's 253 trillion yuan ($38 trillion) of off-balance sheet items pose little risk because more than two-thirds of them are relatively harmless components such as custodial funds and untapped credit-card limits, said UBS Group AG.
Despite the size of the figure, a financial systemic credit event in China is "very unlikely," Jason Bedford, a Hong Kong-based analyst at UBS, said in a Nov. 15 report. Growth in assets kept on the balance sheet has outstripped off-the-book expansion, Bedford wrote after studying 282 bank filings from 2016 and the first half of 2017.
Bedford's conclusions add to a growing assessment that China will evade a financial crisis as authorities tighten their grip on structures such as wealth-management products. While the People's Bank of China still warns of "contagious and hazardous" risks, Moody's Investors Service this month said regulation is biting and shadow banking has stopped growing.

Some individual lenders in China could be threatened by isolated items such as guarantees or asset-backed securities, Bedford said. But with the exception of wealth-management products, Chinese banks mostly bear "little or no risk" from the off-balance sheet buildup, he wrote. Only 31 percent of the 253 trillion-yuan total for 2016 contains "meaningful risk" for banks, he said.
"A significant portion of off-balance sheet exposures are composed of benign, no-risk or low-risk items," Bedford said. "The failure to distinguish the risk between these items and other high-risk or contingent off-balance sheet liabilities has often led to an exaggerated risk perception among many market watchers."
Even the fastest-growing items off the balance sheet -- asset-backed securities -- pose little risk, according to UBS.
The 3,450 percent surge in ABS issuance since 2013 "is not quite the red flag it might appear to be," Bedford said. "The rapid growth of securitization has occurred in a highly regulated environment and it would appear to be part and parcel of a broader opening and reform of China's credit markets beyond bank balance sheets."
— With assistance by Angus Whitley
Before it's here, it's on the Bloomberg Terminal.
LEARN MORE