Catalan Separatists Shrug Off Broken Promises for Elections
By
Pollster says pro-independence parties set to defend majority

Spain triggered ballot after Catalans tried to form new state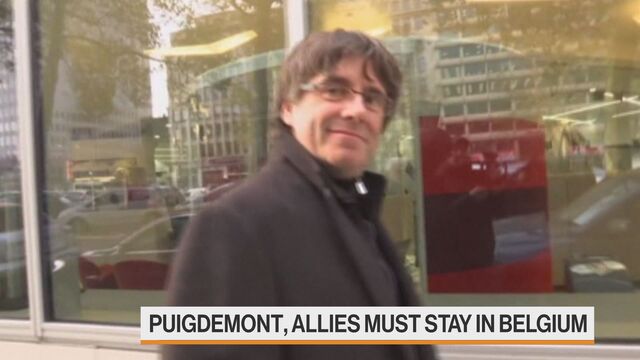 Catalan separatist voters are standing by their political leaders despite the disappointments and broken promises of the past month, according to pollster Narciso Michavila.
After weeks of protests and the decision by more than 2,000 companies to move their legal base from the region, the group led by ousted Catalan President Carles Puigdemont and its two pro-independence allies may still get enough votes to secure another majority in the regional assembly when Catalans go to the polls on Dec. 21, said Michavila, who's chairman of GAD3, an independent polling firm.
Puigdemont is due to appear in court in Brussels on Friday where a judge will consider a Spanish request for him to be arrested and sent home. Eight members of Puigdemont's former government have been jailed in Madrid as the National Court investigates potential rebellion charges against them.
The former president is running for a second term as Catalan leader despite fleeing to Belgium after last month's declaration of independence when activist groups had been primed to defend him from Spanish police. At least three former members of Puigdemont's government have since said they weren't properly prepared to start their own republic and parliamentary speaker Carme Forcadell told the Supreme Court in Madrid the declaration was only "symbolic." None of that has dented their support, Michavila said.
"The separatist camp has a child-like behavior in which fantasy plays the central role," said Michavila, whose firm is preparing a poll to be released in the coming days. "On a scale of zero to 10, separatist leaders are scoring about 9 among their voters."
Puigdemont is seeking to form a list of candidates with politicians of his PDeCAT party as well members of separatists campaign groups. Jordi Sanchez, the head of the Catalan National Assembly, the largest of those organization, announced Thursday he is stepping down from his current position to be part of the list. Sanchez is in jail as part of a court investigation for alleged sedition.
If most Catalans want to be independent, politicians must address that reality, said Puigdemont in a Russia Today interview with former Scotland's First Minister Alex Salmond. "We must be confident, resilient because we'll win," he said.
Read more: Why Catalonia Still Fights Battle That Divided Spain
If the separatist parties fall short of a majority, the pro-Spain parties could potentially form a coalition led by Socialist candidate Miquel Iceta, Michavila said. The liberals of Ciutadans are likely to be the largest of the groups who want to stay with Spain, but Iceta may be in a better position to cut a deal because his group is more palatable for Catalunya en Comu, the anti-establishment party allied to Podemos.
The electoral system in Spain gives more weight to voters in less-populated provinces, so separatists could win a majority of the seats in the chamber with less than 50 percent of the votes, as happened in 2015. Then the separatists won 72 seats in 135-strong chamber with 48 percent of the votes.
"In the same way that in the U.S. a few states of mostly rural voters had a key role in the election of Trump, Catalonia's relatively underpopulated areas such as Lleida province will be key," said Michavila, who has worked as a consultant for Prime Minister Mariano Rajoy's People's Party.
Antonio Roldan, head of economic policy in the Spanish parliament for Ciudadanos, as Ciutadans is known in the rest of Spain, said he thought many people realized that unilateral independence was not the way to solve the region's problems.
"Probably we need an alternative that governs for all Catalans and not only for half of them," said Roldan in an interview Friday with Bloomberg Television.
 
Before it's here, it's on the Bloomberg Terminal.
LEARN MORE