Brexit Bulletin: In Time for the Deadline?
By
Davis signals clarity on Brexit bill within a few weeks

May meets with leaders on sidelines of informal summit in Gothenburg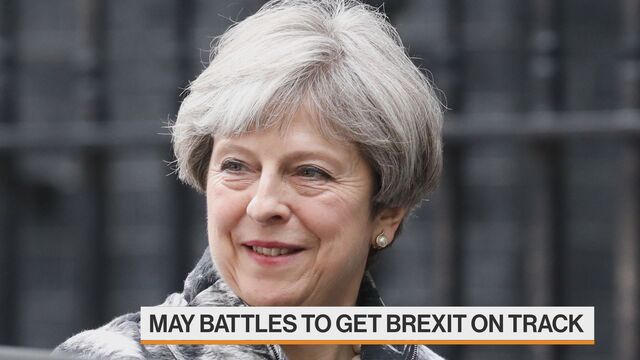 Sign up to receive the Brexit Bulletin in your inbox, and follow @Brexit on Twitter.
Brexit Secretary David Davis hinted at clarity in a "few more weeks" on the bill the U.K. will have to pay to leave the European Union, adding to the sense that the British are getting closer to making a concession aimed at unblocking negotiations.
It's a close call whether that would be soon enough to make the agenda for a crunch EU summit in December. That's when the U.K. has been hoping national leaders will give the green light for Brexit talks to move on from thorny separation issues to the key matters of a transition deal and future relationship. EU diplomats draft the summit conclusions in the first week of December, seen in Brussels as the latest moment that any offer could be considered. EU officials are looking at dates in January and February if December is another flop.
Speaking in Berlin, Davis told an audience of German business leaders that the EU should put prosperity ahead of politics, and suggested they should be pushing for talks to move on to trade. German business lobbies have repeatedly said they won't seek to undermine the unity of the EU and that protecting the union takes priority. 

Davis said negotiations are ongoing with the EU, even though another round before the Dec. 14 summit hasn't been scheduled and the last two-day round bore little fruit. "On a day-by-day basis we're going through and establishing what the European Union believes about these commitments, what size they are, what the basis of their understanding is and then we'll make some decisions, political decisions, later on," he said.
The EU is pushing for Britain to pay at least €60 billion ($71 billion) to cover budgetary commitments and liabilities agreed to in the past but paid for in the future, such as pensions for EU officials. So far Prime Minister Theresa May has pledged to honor about €20 billion of scheduled budget payments after Brexit and has indicated a willingness to pay more after a line-by-line analysis. The Sun reported this week that another £20 billion ($26.5 billion) was on the table, which May's spokesman described as "yet more speculation."
May is also out in Europe pressing the U.K.'s case. She met her Polish counterpart, Beata Szydlo, and Swedish premier Stefan Lofven late on Thursday ahead of an informal European summit in Gothenburg. Lovfen said early on Friday there's still some way to go. May is also scheduled to meet her Irish counterpart and EU President Donald Tusk, the senior EU official who's been friendliest to the U.K. throughout the process.
May will have to offer something new if she's going to get more than just a sympathetic ear – and Brexit isn't on the agenda, so any talks are purely on the sidelines. German Chancellor Angela Merkel won't be there as she's busy stitching together a coalition at home. But the German leader is said to be wary of pushing May too hard in talks for fear it could backfire and weaken her at home.
Brexit Latest
Climbdown Ahead | A senior minister dropped a strong hint that May is looking for a way to ditch her attempt to write the date of Brexit into law after a rebellion by Tory lawmakers. "There are various constructive suggestions that have been made during the committee debates about how the bill might be improved," Justice Secretary David Lidington said, when asked about the exit date proposal. "Obviously, we will listen."
Relocation Threats | Huntsman Corp.'s chief executive officer said U.K. investment decisions could be put on hold in the event of lingering Brexit uncertainty and that any discontent from customers could see the U.S. chemical maker shift production elsewhere. The company, which manufactures polyurethane foam insulation, says production could easily be transferred to the U.S. or China. "I can do basically the same thing in Geismar, Louisiana, so why put up with all the mess?" CEO Peter Huntsman said.
Brexit Means Work | The government is working on 313 separate programs across all departments to prepare the country for Brexit, according to the National Audit Office. The "work-streams" range from designing replacements for EU funding programs such as the Common Agricultural Policy to devising regulatory regimes to replace tasks currently carried out by EU bodies.

Reducing the Bill | The Financial Times calculates that if the U.K. wins every argument in the haggling over the divorce bill, it could bring it down to €32 billion in net terms. British officials doubt they'll be that successful, the paper says. It also reports Davis is urging May not to offer too much on the divorce bill so that more can put on the table later in trade talks.
On the Markets | The pound rose in early trading on Friday for a fourth day.
And Finally...
Noel Gallagher, the former Oasis star, is telling remoaners to "Roll With It." People should just get over the Brexit referendum result and he "can't believe there's so much noise about it."
"You know what I mean? It was put to the people as a vote, the people voted. That's democracy," the Telegraph quotes him as saying. "Get over it."
Gallagher didn't cast his ballot, because he didn't think members of the public were qualified enough to take the decision. But trying to reverse it would be wrong, he said. "They used to call that fascism."

For more on Brexit follow Bloomberg on Twitter, Facebook and Instagram
Before it's here, it's on the Bloomberg Terminal.
LEARN MORE