Balance of Power: Cracks Spread Through Global Climate Alliance
By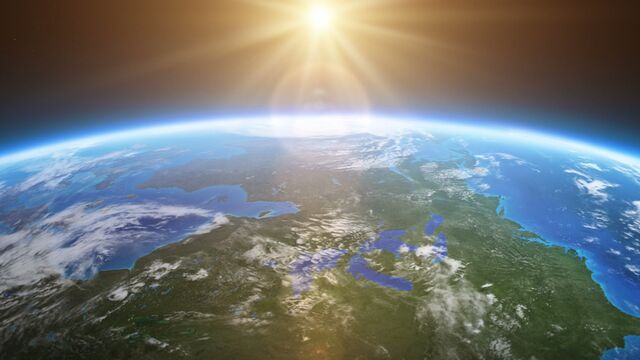 Warnings that U.S. withdrawal would unravel the Paris climate accord are coming true at the annual UN conference on global warming wrapping up today in Bonn, Germany.
Outwardly, U.S. negotiators took a conciliatory tone, but behind closed doors talks have been tough, with European lawmaker Christian Ehler saying this is "the worst moment'' for the U.S. to "start behaving like a 5-year old."
Envoys from India and China — both key fossil-fuel users — wondered why they should make sacrifices while the U.S. embraces President Donald Trump's "America First" doctrine, even as governors of some states and executives pledged their support for the Paris deal.
The strain was evident in a split between France and Germany as they tried to keep the global warming fight on track — French President Emmanuel Macron called for a minimum price on carbon pollution while Chancellor Angela Merkel defended Germany's use of coal and the need to preserve industry jobs.
As the world argues, temperatures keep rising. This year is likely to be one of the three warmest on record, and will see the highest-ever carbon emissions.

Sign up to receive the Balance of Power newsletter in your inbox, and follow Bloomberg Politics on Twitter and Facebook for more.
Global Headlines
Tax focus shifts to Senate | Hours after House Republicans jubilantly passed their tax bill, a Senate panel approved a far different version — one that postpones difficult questions as lawmakers rush to refashion much of the U.S. economy on a tight timeline. Even before the two chambers tackle their differences, however, Senate Republican leaders must overcome opposition in their ranks to pass their own legislation when they return from next week's Thanksgiving recess. 
Russia-U.S. showdown at UN | It was just last weekend that the U.S. and Russia tried to highlight points of agreement in a joint statement on Syria, but cracks are already widening. Yesterday, Moscow snubbed a last minute overture by Trump and vetoed a UN resolution to extend the probe into a deadly chemical-weapons attack blamed on President Bashar al-Assad's regime. Next week, Vladimir Putin hosts counterparts from Turkey and Iran to discuss next steps in the civil war — without the U.S.
Modi's upgrade | Prime Minster Narendra Modi got a timely boost as Moody's Investors Service handed India its first sovereign debt upgrade in 14 years. The vote of confidence in Modi's reform agenda couldn't have come at a better time – the prime minister is facing unrest over sluggish growth and a confusing new sales tax ahead of a bellwether election in his home state next month.
Saudis spark anger in Beirut | Rafik Hariri is set to leave Saudi Arabia tomorrow — two weeks after his surprise resignation from Riyadh as Lebanon's prime minister sparked accusations he's being held hostage as part of the kingdom's confrontation with Iran. But as Donna Abu Nasr reports, his departure isn't easing Lebanese fears that they'll become the victims of another Saudi foreign-policy mishap, as the conflict in Yemen deteriorates and saber-rattling against Qatar looks increasingly like it's going nowhere.
Democrats on defense after Franken claims | Republicans who've been fretting about the fallout from allegations that their Alabama Senate candidate pursued relationships with teenage girls seized on a report that Democratic Senator Al Franken behaved inappropriately. Franken quickly apologized but may still face Senate discipline as the U.S. grapples with where to draw the line on inappropriate sexual behavior following a raft of high-profile incidents.

And finally... Pope Francis has been given a white Lamborghini Huracan by its manufacturer. "Put on your seatbelts!" tweeted his spokesman Greg Burke. But neither Francis, who used a humble Fiat 500L for his visit to the U.S. in 2015, nor anyone else will be speeding through the streets of the Vatican in the special edition model. The supercar will be auctioned off for charity by Sotheby's, with part of the proceeds helping Christians to return to the Nineveh Plains near Mosul in Iraq, an area wrecked by Islamic State. 

— With assistance by Kathleen Hunter, and John Follain
Before it's here, it's on the Bloomberg Terminal.
LEARN MORE