Alabama's Moore Slips Out of Poll Lead for First Time in Race
By
Embattled Republican accused of fondling teenage girls

Democrat Doug Jones holds small edge after double-digit gap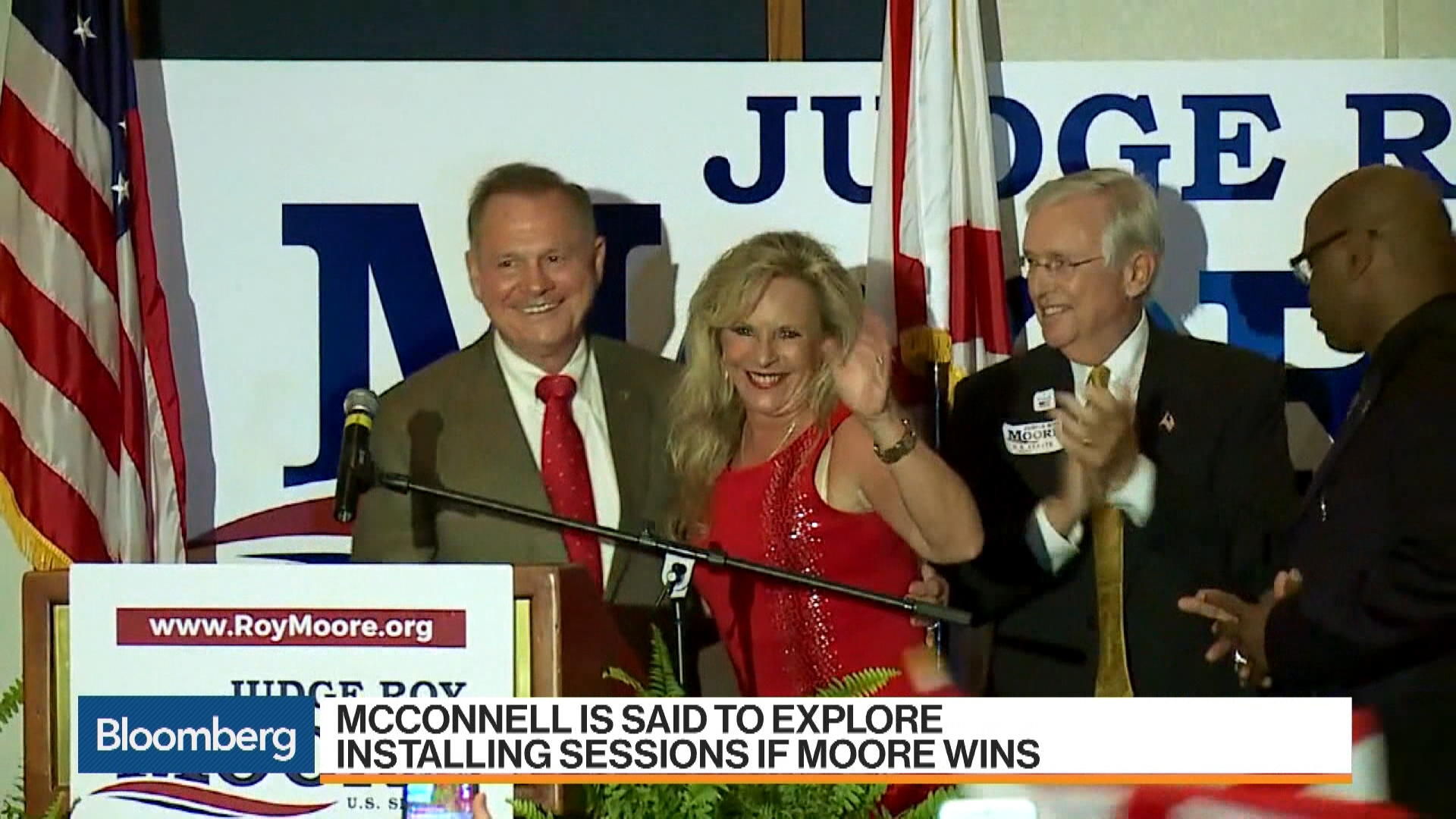 Republican candidate Roy Moore has slipped behind his Democratic opponent in polls of the Alabama Senate race for the first time, as his support erodes following allegations he made inappropriate sexual advances on teenage girls almost four decades ago.
The RealClearPolitics average of six polls taken in heavily Republican Alabama since the first accusations against Moore were published earlier this month has Democrat Doug Jones holding a scant lead of less than a percentage point with the Dec. 12 special election drawing closer.
The two most recent polls, by Fox News and the nonpartisan research firm Gravis Marketing show Jones with leads of eight points and five points respectively. The margin of error on both polls was plus or minus 3.5 percentage points.
Since winning a Republican primary run-off against a candidate backed by President Donald Trump and Senate Majority Leader Mitch McConnell in September, Moore had spent most of the race with a lead of 10 points or more. That advantage started crumbling after the Washington Post last week published an account by a woman who said Moore took her to his home when she was 14 and he was in his 30s and initiated sexual contact with her. 
Three other women told the Post that Moore pursued them for dates around the same time, when they were 16 to 18 years old. Another woman subsequently came forward to accuse Moore of sexually assaulting her in his car when she was 16.
Moore's Denial
Moore has flatly denied the accusations of improper sexual conduct but has left open the possibility he dated teenagers while in his early 30s and working as a county prosecutor.
While Republicans in Washington have denounced Moore and urged him to drop out of the race, Moore has refused to budge. His wife, Kayla Moore, defended Moore in an appearance Friday on the steps of the Alabama state capitol, saying the Post and other media organizations have an ax to grind.
"He is a loving father and a grandfather, but most important he is a Christian," Moore said in a video of the event posted by the Associated Press. "They print whatever anyone says without even checking to see if it is correct."
The 21-member Alabama Republican Party Steering Committee also is standing behind Moore even though the national party organization and the campaign arm of Senate Republicans have withdrawn from joint fundraising with the candidate.
Trump finds the allegations against Moore "troubling" but believes Alabama voters should decide how to respond, White House press secretary Sarah Sanders said Friday.
Senate Democrats are dealing with their own sexual harassment dilemma after Minnesota Senator Al Franken, a leader of the party's liberal wing, was accused by a radio news anchor forcefully kissing her and groping her without consent when they were on a U.S. military-sponsored entertainment tour to the Middle East in 2006.
Franken has apologized for his conduct, which took place before he was elected, and agreed with demands from Republicans and many Democrats that the matter should be reviewed by the Senate ethics committee.
Before it's here, it's on the Bloomberg Terminal.
LEARN MORE