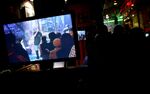 It's hard to believe that this was possible: Viacom Inc.'s stock is looking even worse under new CEO Bob Bakish than Philippe Dauman, his predecessor who was given the brunt of the blame for the TV-network operator's initial downward spiral. But even as the shares continued their descent Thursday on Viacom's fourth-quarter earnings, the results did provide a glimmer of hope as Bakish pulls every lever within reach to desperately try to turn around the company. 

You already know the glass-half-empty take: Viacom, controlled by the billionaire Redstone family, is the weakest of the major TV-and-film-content companies, both in terms of its strategic positioning in the industry and its financial health. Once popular channels such as MTV and Comedy Central faded over the last few years, and consolidation among pay-TV distributors hit Viacom harder than most. Its content isn't considered must-have, especially given that sports are absent from its lineup. During the latest quarter, Viacom's domestic affiliate revenue turned negative for the first time this year, dropping 3 percent amid continued subscriber losses and its lack of leverage with the pay-TV companies. 
That said, I would point to three positive developments that don't appear to be one-offs, but rather signs that Bakish's strategy is slowly -- very slowly -- working:
1. RATINGS: Viacom's ratings posted a modest 1 percent gain in the three months through September for viewers aged 18 to 49, led by significant recoveries at MTV, Nickelodeon and BET -- three of its flagship brands. The overall figure may not sound like much, but it's a substantial improvement from the previous period when ratings dropped 8 percent, not to mention the 11 percent plunge in October 2016. Part of Bakish's strategy has been to shift the company's attention and resources to its six main networks (which also include Comedy Central, Nick Jr. and Paramount), and there's now proof that this is helping. The first step to fixing Viacom has to be getting ratings back up because audience drives the rest. 

2. DISTRIBUTION: Viacom struck a multiyear distribution deal with Charter Communications Inc. -- which now owns Time Warner Cable -- and forged a strengthened relationship with the cable provider. The arrangement not only averts a channel blackout that Viacom can't afford right now, but Viacom's Paramount TV studio -- which is behind Netflix Inc.'s hit "13 Reasons Why" -- is going to produce exclusive shows for Charter. Bakish said that Viacom has now renewed or extended distribution deals representing nearly 50 percent of its subscriber base and that it has no significant renewals until "well into 2019." He seemed to be breathing a sigh of relief on Thursday's earnings call:
This was a significant accomplishment at a critical time for our business that removed the major area of uncertainty that hung over the business in 2017. It's a key part of the stabilization story, and I am very happy about it.
3. DEBT REDUCTION: Viacom's balance sheet is looking a bit better these days, which is no small feat. It has paid down $2 billion of borrowings since February, when the company announced its debt-reduction plan, leaving the balance at $11.12 billion as of Sept. 30. Its cash level recuperated to $1.39 billion, the highest since the start of 2015. This is obviously a priority for Bakish.
Viacom is the second-cheapest stock in its industry (following AMC Networks Inc.), and for good reason. But the discount has widened so much that it's difficult to imagine the stock going much lower on current fundamentals. I'm still giving Bakish the benefit of the doubt that he can stabilize things and make the flagship brands valuable additions to new services targeting younger audiences.

He'd better move quick, though. Time Warner Inc. is on the verge (as of now) of joining the powerful AT&T empire and Discovery is buying Scripps Networks Interactive Inc.. Meanwhile, Walt Disney Co. looks ready to make moves, having just eyed 21st Century Fox Inc.
Do the Redstones have any deal tricks up their sleeve? At one time recombining with CBS Corp. was on the table, and Viacom had been in the running for Scripps. I even wonder whether networks like MTV, Comedy Central and Nickelodeon could theoretically fit with Disney's coming streaming service. Or is this solo turnaround the end-game for Viacom? If so, it's still within reach.
Before it's here, it's on the Bloomberg Terminal.
LEARN MORE