Business Schools
Say Hello to the Flexible MBA
Facing declining applications, B-schools are adapting to give students the specialized programs they want.
By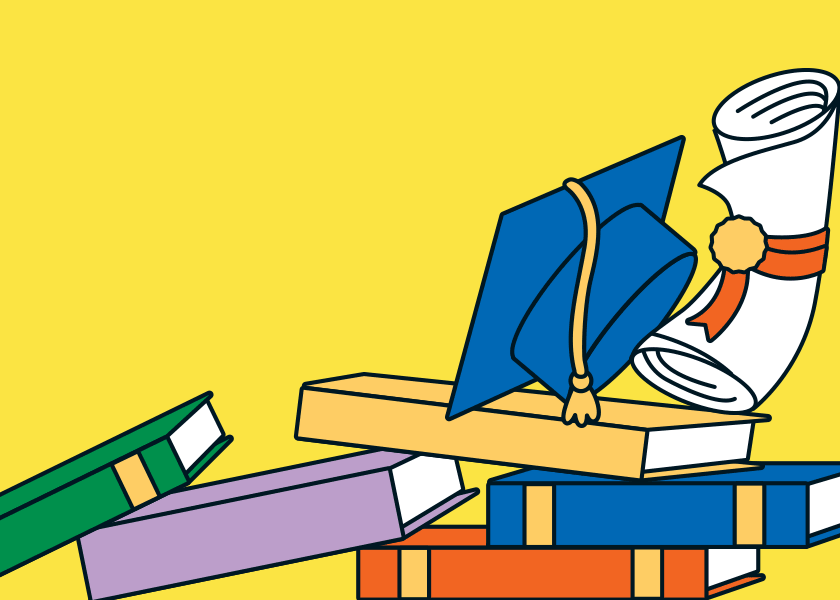 Business schools are in an enrollment slump. Applications for full-time, two-year Master of Business Administration programs in the U.S. have declined since 2015. Last year 64 percent of U.S. full-time MBA programs received fewer applications, according to the Graduate Management Admission Council's 2017 Application Trends Survey Report. "There has been a general contraction in industry MBA programs," says Claire Preisser, associate director of the Aspen Institute Business and Society Program, an arm of the think tank that studies trends in business education.
That's due in part to a strong U.S. economy and higher employment rates. Also, with outstanding student loan debt at an all-time high—$1.4 trillion—and fewer employers willing to foot the bill for an MBA degree, the costs are even more daunting than in previous years.
This has students seeking out more specialized and flexible programs, which in turn, Preisser says, has led "more schools to look at their curriculums and adjust them to fit market pressures." Jerry Davis, an associate dean at the University of Michigan's Ross School of Business, agrees: "We don't want to be a generic provider of an MBA degree."

One response by Harvard Business School to the market demand was to create a Master of Science/MBA joint degree program with its engineering school. "Our MBAs are going into technology-based companies, and we are constantly looking for ways to build out their technology management skills," says Tom Eisenmann, professor of business administration at HBS and one of the faculty members behind the program. Such programs are an attempt to stay relevant and cater to what students and employers are looking for.
For the third year in a row, Harvard topped Bloomberg Businessweek's annual ranking of traditional two-year, full-time MBA programs, which polls recent graduates, alumni, and employers on topics such as academics, job placement, and pay growth. (The ranking excludes alumni who received joint degrees or pursued a part-time program; the complete ranking and full methodology is available at bloomberg.com/bschools2017.)

Harvard faculty and administrators raised the idea of a joint program earlier this year, and it will be offered to students starting in August. Most of the first year will consist of MBA-required courses; the second year includes electives at both schools. "You can hire somebody who understands technology, and you can hire someone who understands business, but we are trying to put it all into one head," Eisenmann says.
The Wharton School of the University of Pennsylvania, which jumped up four spots from last year to No. 2, is feeling the same market pressures. "Students have been asking for more specialized and personalized degrees" to ensure their coursework will advance their careers, says Deputy Vice Dean Maryellen Reilly. In addition to several interdisciplinary programs—the first of them, a three-year Juris Doctor-MBA run with Penn's law school, started in 2009—Wharton is training its academic advisers to help students customize their degrees. Technology factors into many of the individually tailored programs and is central to recently added courses in data and analytics, entrepreneurship, digital marketing, and e-commerce.
One buzzed-about topic among MBA students that has caught the attention of schools is data analytics. A survey by Kaplan Test Prep published in February points to a growing number of business schools adding courses in big data. At Michigan's Ross School of Business, big data analytics, big data management, and mobile innovation development are popular courses that fill up quickly. That's no surprise, says Davis, considering that global companies are demanding job candidates with tech skills. "Amazon is one of our biggest recruiters, and we want to make sure our students are equipped with the right skill sets when they graduate," the associate dean says.
This year's ranking again surveyed employers about the skills they seek in MBA hires and which schools best prepare their graduates for jobs. Harvard was the top pick of the more than 600 recruiters who responded to this year's poll.
Dennis Tseng, a talent manager for SYPartners, a San Francisco-based business strategy and innovation consulting firm, says data courses speak to the skills employers are seeking. "Skills like product development, data and analytics, and supply chain management are in demand now," and that will only continue to increase, he says. Several written comments provided by survey respondents emphasized the importance of data science expertise. "The students who have familiarity with this have been able to get to their key roles more quickly," one recruiter noted.
Michigan's Ross also recently launched a business experience seminar in which students work for a real company to test ideas. Initially a pilot last spring, five second-year MBA students spent seven weeks working in product development at Shinola LLC, the Detroit-based leather goods and watch company. Their real-life test case considered whether the company should introduce men's shaving accessories. Reporting directly to Shinola's chief executive officer, Tom Lewand, the students examined every aspect of the business, from supply chain to marketing. The students and Shinola ultimately decided against investing in the new product line.
"This isn't an internship," says Davis. "Students are coming up with business models and are actually running businesses." The course now includes Ford Motor Co. and NRP Group, a Cleveland-based real estate development company, as partners; three more companies, which the school declined to name, will join in the spring of 2018.
Some schools are making more fundamental changes. Simmons College, struggling with falling enrollment, considered whether the time had come to end its MBA program. From 2010 to 2015, enrollment dropped from 195 to 105, says Provost Katie Conboy. "The MBA has been in decline everywhere, except for the top 1 percent of schools."
Simmons's MBA program, which was the only one in the country exclusively for women, followed the example set by several other graduate programs and moved the curriculum online in the spring of 2016. Conboy says the change has paid off. "We now have 107 students in our MBA program, and we expect those numbers to grow," she says. Much of the gain likely will come from male students, which Simmons now is open to. "We have a niche—gender and power dynamics—and the move allowed us to bring that theme to a much larger market," Conboy says.
Part-time programs are another way schools are trying to be more flexible. North Carolina's Wake Forest University School of Business phased out its full-time MBA in the fall of 2015 and concentrated on its part-time program. Students take classes in the evening and on weekends. There are 315 students enrolled at both the Winston-Salem and Charlotte campuses.
"Fewer students want to take a full-time day approach, and employers want to keep high performers from walking away to earn an MBA," says the business school's dean, Charles Iacovou. According to comments shared as part of the survey, students and alumni value the experience and maturity that part-time students can introduce in a classroom. Many are older and have established careers.
MBA programs will continue to evolve, says SYPartners' Tseng. He's observed more interest from companies for MBA students with design and innovation backgrounds, he says. "Companies are asking for people with more specialization in creative innovation," Tseng says. "And it's not just a Silicon Valley thing—I'm seeing this across industries around the country."
(
Corrects the name of The Wharton School of the University of Pennsylvania in the seventh paragraph, and corrects information in the 15th paragraph about Wake Forest's part-time program.
)
BOTTOM LINE -
Last year 64 percent of U.S. full-time MBA programs received fewer applications, which have been declining since 2015; business schools want to reverse the trend.
Before it's here, it's on the Bloomberg Terminal.
LEARN MORE