Hero to Zero in Two Months for This CEO
By and
Recently appointed Cummings exits Airbus supplier immediately

Dismissal comes amid mounting writeoffs at North America sites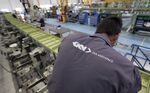 GKN Plc, a key supplier to Airbus SE, took the unprecedented step of dropping its new chief six weeks before he was even due to start the job, saying it had decided he wasn't the right person to run the business.
Kevin Cummings, who had led GKN's aerospace division for almost four years and was handed the top post in September, has left with immediate effect, the Redditch, England-based company, which also has a major automotive division, said Thursday. The surprise announcement sent the stock to a 16-month low.

Anne Stevens, 69, a GKN director who spent 16 years at Ford Motor Co. where she was chief operating officer for the Americas, will instead become CEO on an interim basis when current chief Nigel Stein retires at the end of the year. GKN didn't explain the switch, beyond saying that the board had concluded the group's development "is best delivered under alternative leadership."
At the same time, GKN said in a in a statement that write-offs at North American plants, which make parts for Airbus, helicopter producer Sikorsky and Honda Motor Co.'s new business-jet arm, could jump by as much as 130 million pounds ($171 million).
GKN shares fell 10 percent to 280 pence, the lowest intraday price since July 19, 2016, and were down 6.2 percent at 291.50 pence as of 1:41 p.m. in London. The stock has lost 12 percent this year, valuing the group at 5 billion pounds.
Brexit, Cost Pressure
GKN's troubles are set against a backdrop of turbulence for U.K. transportation and defense suppliers, stoked by uncertainty over the extent of upheaval from Britain quitting the European Union and pressure from primary manufacturers to pare expenses.
Cobham Plc said in February it held "incredibly intense" talks with Boeing Co. over cost overruns on an aerial tanker program, while Ultra Electronics Holdings Plc this week ousted CEO Rakesh Sharma, citing a "period of reflection" tied to a bleak assessment of U.K. defense spending. Its stock fell 24 percent.
GKN said that Stevens, who is also a former CEO of specialty metals supplier Carpenter Technology Corp. and a director of Lockheed Martin Corp. and Anglo American Plc, will be chief until a permanent successor is appointed.
"After such upheaval, it is not clear what the next stage in GKN's development will be, but it could be profound change," Sandy Morris, an analyst at Jefferies International Ltd., said in a note to clients. "Reading between the lines, issues have been stored up in Aerospace North America."
While the group is best known for its aviation activities, with Airbus the biggest customer, it gets more revenue from the automotive industry, where major clients include Tata Motors Ltd.'s Jaguar Land Rover division.
Deal Architect
GKN's Sept. 14 announcement on the appointment of Cummings said he'd gained extensive experience of running a global business after joining in 2008, as well as an "in-depth perspective" of group activities. Cummings, 54, also led the 706 million-euro ($830 million) purchase of Fokker Technologies Group BV in 2015 to make GKN the world's No. 2 supplier of fuselage and wing parts.
GKN said in October that a review of inventory and receivables at factory in Tallassee, Alabama, had prompted a 15 million-pound charge. Stein said at the time that the North American aerospace unit had "not been great," and that the situation was "like walking down the street and being mugged."
The increased write-offs follow a review of working capital across GKN's North American aerospace plants prompted by the issues in Tallassee, it said.
The Alabama site employs about 1,000 people and makes components for planes including the Boeing F-15 Eagle and F/A-18 Hornet fighters, as well as parts for Airbus, whose Mobile facility 100 miles away assembles A320-series narrow-body jets and will also build the Bombardier Inc. C Series model, according to an agreement last month. GKN has operations at another two dozen locations in the U.S., Canada and Mexico.
Quotes from this Article
Before it's here, it's on the Bloomberg Terminal.
LEARN MORE