Dollar in Danger of Weakening for Six Years, Morgan Stanley Says
By and
Redeker recommends shorting dollar versus EM currencies, euro

Sees dollar peaking at 117 yen before retreating below 108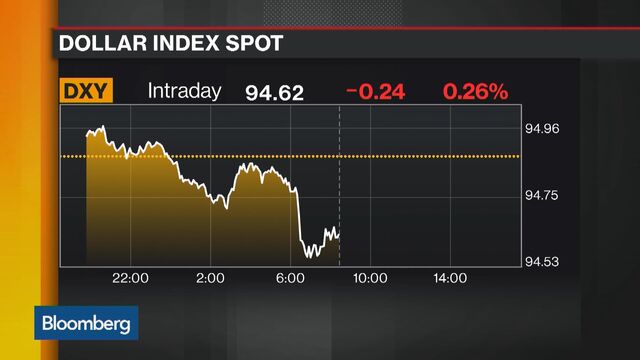 The dollar is threatened by six years of weakness as stronger global growth will outweigh any boosts from interest-rate increases by the Federal Reserve, according to Morgan Stanley.
Investors should short the greenback against emerging-market currencies and the euro as growth gathers momentum, said Hans Redeker, the London-based chief global currency strategist at Morgan Stanley. The dollar's rally against the yen will halt at 117 in the first quarter, before it drops below 108 by the end of next year, he said.
"The dollar has topped out in January this year and we are very likely to look into a dollar weakening trend for the next six years to come," Redeker said in an interview in Singapore. "The key driver for the U.S. dollar is not rate expectations, but how the global economy is performing and what is the global demand for funding."

Morgan Stanley is making its call as the dollar reflation trade makes a comeback with progress being made toward U.S. tax reforms while the Fed affirms its intention to keep raising rates gradually. While the central bank will probably hike in December and act three more times in 2018, that would only have a "tactical impact" on the greenback, Redeker said.
The Bloomberg Dollar Spot Index has climbed 3.8 percent since dropping to a more-than two-year low in September. It's still down in excess of 7 percent for the year.
The yen will strengthen as at some point the "Bank of Japan will become the next European Central Bank" and move away from controlling the bond market's yield curve, Redeker said. "We are currently in an environment where synchronized global growth has rarely been as strong as now."
Morgan Stanley's FX calls:
Emerging-market currencies offer "super attractive" real yields in an environment in which developed markets have none
Rising inflationary pressures from oil prices will likely be offset by improving productivity from the greater use of technology, keeping EM real yields enticing
Likes the Russian ruble because of the nation's growth, real rates and conservative central bank policy
Favors India rupee because the economy doesn't have significant leverage, productivity is very strong and it has a reformist government. Also recommends currencies of Colombia, Chile and Poland
Avoids Mexican peso and Brazilian real because of the political risks from the upcoming elections; Mexico is also threatened by the debate on Nafta
EUR/USD will strengthen to 1.25 in Q1 of 2018. Sees it climbing against the currencies of Australia, Canada and New Zealand because of the other nations' "significant liability positions"
Before it's here, it's on the Bloomberg Terminal.
LEARN MORE