Brazil's Bradesco Expects Elections Won't Spoil 4% Credit Growth
By
CEO Trabuco sees 'team of champions' helping journey

Brazilian banks did a "balance sheet cleanup" to profit
It's taken longer than expected, but total bank lending in Brazil is primed to bounce back from its recession-induced slump.
Even as the country heads into an uncertain election, the banking industry's credit prospects in 2018 are bright, according to Banco Bradesco SA Chairman and Chief Executive Officer Luiz Carlos Trabuco Cappi. That is, as long as the economy keeps chugging along and Brazil's president is the only major personnel change.
"If GDP expansion reaches 1.5 percent, the credit will grow 4 percent for sure in next 12 months," Trabuco said in an interview at Bloomberg's headquarters in New York.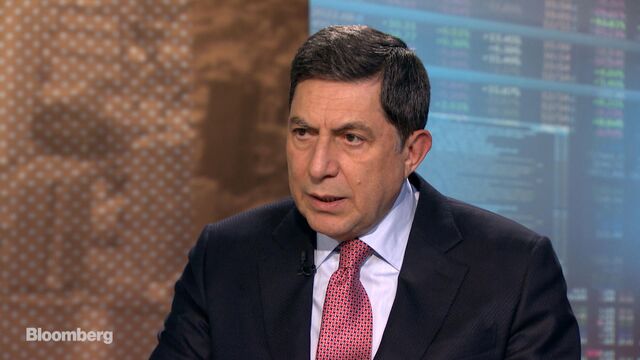 The head of Brazil's second biggest lender by market value expressed faith in central bank head Ilan Goldfajn and finance minister Henrique Meirelles. He said the duo he dubbed the "team of champions" will help keep the country on track through the election year with an aligned economic policy that promotes flexible exchange rates, inflation control and cuts to government spending.
Read more: Bankers Bet Big on Brazil Candidate That Doesn't Exist Yet
Brazil's economy started growing again in the first quarter after more than two years in recession, but credit expansion has lagged, according to central bank data. The total-loans portfolio in Latin America's largest economy contracted 2 percent over the past 12 months. The biggest driver of the decline was lending to companies, which contracted 8.7 percent. Bradesco's shrunk 6.7 percent in the third quarter compared with a year ago.
"Brazilian banks did a balance sheet clean-up, many important economic groups disappeared over the past years," said Trabuco, who came to New York earlier this week for the company's annual CEO forum.
'Cautious' Approach
The "cautious" approach on lending and the increase in provisions for loan losses helped banks cope amid higher delinquencies, he said. Still, Bradesco was forced to cut expenses. The lender closed almost 500 branches and reduced headcount by 8.4 percent over the last 12 months.
"As credit didn't increase the way we expected, we accelerated the process of expense cuts" to take advantage of the HSBC acquisition, he said, referring to the firm's $5.2 billion purchase of HSBC's local unit in July 2016.
Expenses to cover all souring loans dropped in the most recent quarter, to 3.8 billion reais ($1.2 billion) and the bank's return on equity, a measure of profitability, reaching 18.1 percent.
Read more: Bradesco Says Credit Is Improving as Brazil Bounces Back
As for the political situation, Trabuco expects next year's elections will bring "volatility" to the markets and a debate over the size of Brazil's government.
"The candidate who promises that the state will be the provider of more jobs and income will lose credibility given the fiscal crises we are in," he said, suggesting that the nascent recovery should be been driven by private sector investments, policy shifts like the one that opened oil markets to international companies and a law capping government spending.
"We saw over the past year Brazilian society valuing inflation control, the recovery of morality on the government sphere, and we won't expect to lose it in the next elections," he said.
— With assistance by Helder Marinho, and Felipe Marques
Before it's here, it's on the Bloomberg Terminal.
LEARN MORE