Why They Can't Resist the Dip: Best Earnings Guidance Since 2010
By
S&P 500's six days of V-shaped bounce is rare in history

Helping stocks stay buoyant is solid corporate profit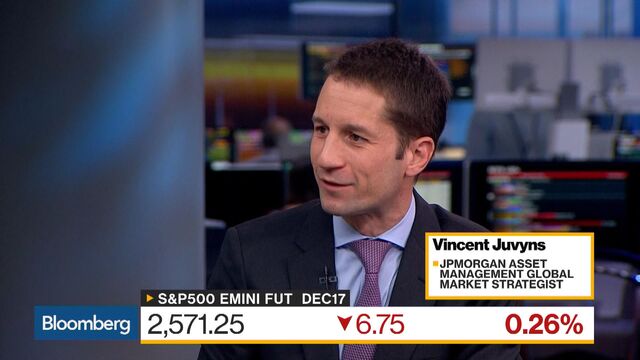 Indecision is getting so pronounced it's becoming predictable.
The same thing keeps happening. For five straight days, the S&P 500 has started its cash session by dropping below its last close, then bounced back -- usually around 10 o'clock -- to end the day in the upper band of its trading range. Same thing today: stocks, having fallen 0.8 percent earlier, clawed back half the decline.

Defined by those admittedly exotic parameters, it's a streak of daily recoveries that's only happened three times before, data compiled by Bloomberg show. While too few examples exist to form an investment thesis -- one was in 2011 and two in 2007 -- they've all come during epic clashes between bulls and bears.
That's true today. By any measure, a meaningful pullback is overdue -- the S&P 500 has gone 12 months without a retreat of 3 percent from a peak, which is unprecedented. Yesterday was the 50th day in a row the index managed not to fall 0.5 percent or more, the longest streak since 1965.
On the other side of the argument are companies themselves, which eight years into the recovery just ran off one of the most impressive earnings seasons of the bull market. One fact is of particular note: U.S. chief executive officers are most optimistic about profits than they have been any time in seven years.
"How the market closes is far more important than how it opens," said Tom Wirth, executive vice president and division manager for wealth management that helps oversee $1.9 billion at Chemung Canal Trust Co., in Elmira, New York. "It's telling me that there is still strength in the market. Investors just focus on what's actually going on with the economy and what's going on with companies and earnings are pretty decent."

Since the reporting season began a month ago, companies saying earnings will beat analyst estimates have outnumbered those predicting they will miss by a ratio of 1.2-to-1. That's the highest for any similar stretch since 2010, data compiled by Bloomberg show.
Helped by a weaker dollar and a concerted global economic recovery, companies extended their earnings rebound from a yearlong downturn that lasted through mid 2016. While profit growth slowed to around 7 percent in the July-September period, mostly because of hurricanes, analysts expect it to bounce back to above 10 percent over the next three quarters.
Such optimism is common but is being echoed by chief executives, lending credibility to analysts who tend to lower their annual profit forecasts as the year progresses. Over the past month, almost 200 firms provided higher forecasts than analysts estimates, the first time since 2011 that upward guidance outstripped downward.
While concerns about China's growth and corporate credit have been sowing angst, the list of reasons to stay invested is long, from a planned cut in the corporate tax rate to the pledge by the Federal Reserve to raise interest rates gradually. Increasing earnings and higher valuations will push the S&P 500 to 2,900 by the end of next year, a 12 percent rally from its level now, according to Keith Parker, an equity strategist at UBS AG.
The dip-buying mentality has persisted all year, helping the S&P 500 score a 15 percent gain with few pullbacks. But investor anxiety is growing. The Cobe Volatility index, a gauge of options cost to hedge against stock losses, rose five days in a row, jumping 11 percent toward its highest level since August.
"Traders have grown used to immediate gratification, being rewarded for their efforts in short order this year," Frank Cappelleri, a technical analyst at Nomura Instinet LLC, wrote in a note. "How many more negative openings can they stomach before taking a break from this tried and true 2017 strategy?"
Quotes from this Article
Before it's here, it's on the Bloomberg Terminal.
LEARN MORE