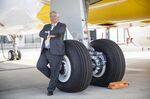 Just as it seemed the Dubai Air Show would be an embarrassment for Airbus SE, top salesman John Leahy rustles up a $50 billion order.
But here's a question: How do four airlines, one of which only started flying this year and which have combined yearly sales of less than $5 billion, pay for hundreds of planes priced at 10 times that? The answer: They probably won't buy most of them, they'll rent them. That tells you something about how easy money is transforming the industry.
Bill Franke, managing partner of private equity fund Indigo Partners LLC, which has interests in U.S. budget operator Frontier Airlines Inc., Volaris (Mexico), east-Europe focused Wizz Air Holdings Plc and Chile's JetSmart is a case in point. Perhaps by negotiating on behalf of four airlines (unconnected besides Indigo's investments) he got them a better deal than they'd have got alone. Still, even if you ignore the $50 billion sticker price (airlines typically pay about half the catalog price) this is a lot of money.
Warren Buffett described airlines as an investor deathtrap, so what's the attraction for private equity? Wizz, Volaris and Frontier certainly look like decent businesses judged by last year's earnings, although Volaris has slipped a bit of late. It's too early to tell with JetSmart because it only began operating this summer.
Franke's airlines are generally fast-growing and profitable, in part because of low expenses and using the latest fuel-efficient jets. All three have exclusively adopted the A320 jet family for cost reasons too, as it makes it easy to swap flight crews and maintenance is less complicated.

But there's more. In an industry that relies on expensive planes, Franke's airline holdings are remarkably asset-light, which helps explain their appeal:

Instead of buying jets outright, Frontier, Wizz and Volaris use sale-and-leasebacks. This makes financial sense. One industry observer says the cost of lease finance might be half that of funding an aircraft with equity because of the flood of cheap capital, much of it Chinese. By avoiding ownership, airlines also sidestep residual value risk. If a plane's value falls, that's the leasing company's problem, not Franke's.
True, when you order jets you have to make a pre-delivery payment (PDP); typically about 5 per cent of the purchase price, sometimes more. But there's financing for that too. A Frontier subsidiary has a $150 million PDP loan facility with Citibank, according to its IPO prospectus. 1
So even a newbie like JetSmart can order scores of planes without spending much of its own cash.
What's the catch? For one thing, these companies' balance sheets are going to look less pretty when new accounting rules called IFRS-16 arrive in 2019. As Gadfly explained here, the rules will force companies to include operating lease commitments in their reported debt and asset calculations. All three airlines acknowledge this will have a "significant impact" on their accounts.
In addition, airlines still need a clear idea of what they're going to do with all those new planes. Norwegian Air Shuttle ASA, another low-cost airline famous for a massive jet order, isn't exactly reassuring. The stock has fallen by one-third this year amid investor worries about the cost of its breakneck expansion and rising competition.
One could argue that Norwegian has ordered too many aircraft. But despite burning through heaps of cash, it has managed to both finance and find a use for them. As if it didn't have enough on its plate, Norwegian is setting up a budget airline in Argentina.
There are many daunting things about creating and running an airline, but finding money to expand isn't one of them.
The IPO was supposed to take place earlier this year but was delayed.
Before it's here, it's on the Bloomberg Terminal.
LEARN MORE