Ghana Plans Eurobond Sale to Help Fund Smaller 2018 Budget Gap
By and
Nation trims next year's GDP expansion outlook to 6.8 percent

Fiscal shortfall to shrink to 4.5 percent of GDP in 2018
Ghana announced plans to sell $1 billion in Eurobonds next year to help plug its budget hole, even as the nation forecast that the deficit will narrow.
The fiscal gap will shrink to 4.5 percent of gross domestic product next year, Finance Minister Ken Ofori-Atta told lawmakers as he presented budget plans to them Wednesday in Accra, the capital. The shortfall will be financed with funds from local and foreign sources, including the dollar bonds, he said.
"We are showing our commitment to eliminate expenditure overruns," and will bring in reforms to eliminate inefficient allocations and widen the tax base to increase revenue, he said.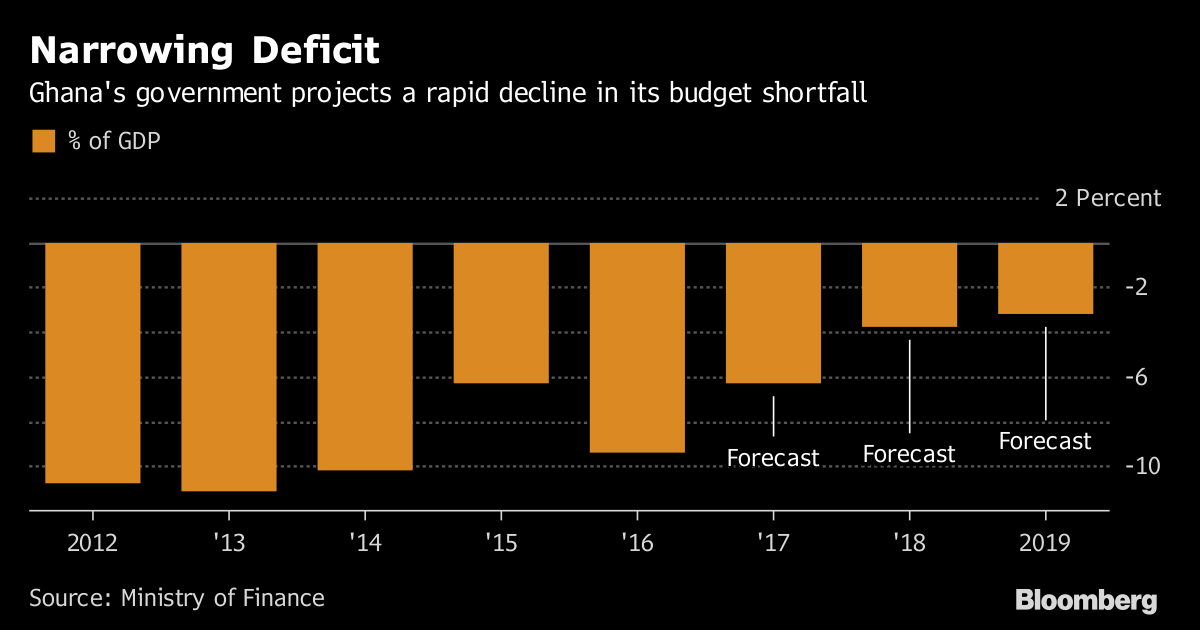 Ghana cut spending this year because of weak tax revenues. Lower prices for exported cocoa, gold and oil forced the government to turn to the International Monetary Fund for almost $1 billion two years ago. The ensuing belt-tightening and rising crude output from new fields is helping to ease the cash crunch.
After two years of chronic power cuts and interruptions at oil projects caused growth in 2016 to slump to the lowest rate in more than two decades, the economy expanded 9 percent from a year earlier in the three months through June, the fastest pace in three years, because of higher crude and gas output, the statistics agency said Sept. 27.
The budget's "targets are achievable on account of additional revenue from crude exports," Godfred Bokpin, a senior lecturer in finance at the University of Ghana, said by phone. "The further drop in the deficit target is a positive signal and earns the economy more credibility."
Here are other forecasts and numbers from Ofori-Atta's address:
He maintained the estimate for this year's deficit at 6.3 percent of GDP
The 2018 GDP expansion forecast was reduced to 6.8 percent from 9.1 percent
The 2017 growth outlook was raised to 7.9 percent from 6.3 percent forecast in July; that's more than double 2016's rate
Public debt declined to 68.3 percent of GDP by Sept. 30 from 73 percent at the end of 2016
The government is assuming an average oil price of $57.44 a barrel for 2018
Revenue and grants will rise 24 percent to 51 billion cedis ($11.4 billion), while total spending will increase 15 percent to 62 billion cedis
Power prices will drop in range of 11 percent to 21 percent next year, and by an average of 13 percent for non-residential users
The government will continue policies to advance industrialization, free senior high school education and agriculture investments
Before it's here, it's on the Bloomberg Terminal.
LEARN MORE