ECB Blasts Banks for 'Empty Shell' Brexit Plans, Risk Transfers
By
Some banks are planning to move all market risk outside the EU

Transition plans need to be amended to set out 'steady state'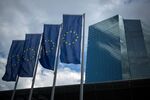 The European Central Bank demanded changes in banks' plans for relocating from the U.K., saying some are still seeking to set up "letter box" companies in the euro area with no real independence.
"Some elements in a number of banks' plans do not fully meet the ECB's expectations and requirements of banks operating in the euro area," the central bank said in its quarterly banking supervision newsletter. "Banks do not only need to be well-capitalized and have sufficient liquidity and funding. They also need to have substance locally."
The supervisory arm of the ECB has long been concerned that banks fleeing Brexit will try to set up empty-shell companies on its turf, seeking to reduce the costs of moving by leaving as many staff as possible in London. In an article published on Wednesday, it called for some to revise their proposals.
While negotiations between the European Union and the U.K. about their future relationship are deadlocked, banks are beginning to push the start button on contingency plans to ensure they can continue to serve their European clients after Brexit. Daniele Nouy, the head of banking supervision at the ECB, said last week that about 20 banks have filed license applications with the central bank so far, while about 50 have discussed relocation in general.
Some of the plans submitted by banks lean toward an "empty shell that is overly reliant on group entities in third countries," the ECB said. While many banks are planning to transfer all market risks to an entity outside of the EU, supervisors instead expect them to have "permanent local trading capabilities and local risk committees," including infrastructure and staff, and to trade and hedge risks with diversified counterparties and not just the rest of their group, it said.
Several of the banks seeking a license with the ECB also plan to have bankers with jobs in more than one group entity, a practice known as "dual-hatting." Such plans may limit independence and result in insufficient attention from staffers, especially if they appear to be spending most of their time outside of the euro area, the ECB said.
Andreas Dombret, an executive board member at Germany's Bundesbank, said earlier this year that supervisors won't accept "fly-and-drive banking, where bankers fly in daily from London, or 'dual-hatting,' where transactions are booked on the EU subsidiary but in fact executed in London."
The ECB indicated that it's open to transition arrangements for "specific aspects." In that case, "banks should set out clearly what the steady state will be, commit to this and explain how and when they will get there," it said. "So far, this expectation has not been adequately reflected in banks' proposals."
Before it's here, it's on the Bloomberg Terminal.
LEARN MORE