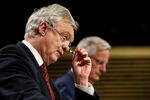 For much of the past year, bankers' pessimism over Britain's exit from the EU has contrasted with optimistic tub-thumping from Theresa May's government, even as talks over the contentious divorce bill remain deadlocked.
Financial industry lobbyists have been warning that the March 2019 deadline is getting dangerously close if investors and businesses' hopes for a workable transition deal are to be fulfilled.
Now it seems the mood is turning. A Bloomberg survey of seven banks put the chance of a breakthrough deal by December at 68 percent. That contrasts with Brexit Secretary David Davis' slightly gloomier, behind-the-scenes view the probability is closer to 50-50 -- a figure quickly denied by his spokesman. Analysts seem to expect pragmatism to win the day, viewing both sides as keen to come to an arrangement and move talks on to a future trade relationship.

This would suggest that investors have already made their minds up about Brexit: markets and companies have already assumed a fair amount of negativity ahead. The Bloomberg British Pound index is pretty much flat on the year and well below its pre-referendum level, for all the talk of an interest-rate rise. The FTSE 100 is up almost 4 percent this year, underperforming every single major European market save Russia. Merger activity has faded; investment intentions have virtually flat-lined.

Even if December brings progress, 2018 looks likely to be the moment of reckoning for investor sentiment. There isn't much evidence that financial markets are pricing in worst-case scenarios, especially the risk of no deal. The politicians may be a better guide.
Article 50 has imposed a merciless timeline. Claims by its own architects that it can be reversed are in dispute. Even if some progress is made toward agreeing a divorce bill in December, that would still leave 15 months to negotiate and conclude a bespoke trade deal -- something former Attorney-General Dominic Grieve thinks looks too ambitious. There would probably need to be new legislation passed on top of the already arduous Withdrawal Bill. Companies won't stick around to guess.
Even before we get to that point, investors may be caught out by politicians' unwillingness to soften their stance. Some skeptics reckon these talks look less like a negotiated settlement and more like an acrimonious Texas Shoot-out, in which two parties in a deadlocked joint venture submit sealed bids to buy each other's shares. The advantage is a final exit deal; the disadvantage is utter unpredictability as to what it contains. The political rhetoric doesn't inspire confidence: Each side has accused the other of bluffing, while bracing for the worst.
With this in mind, financial markets' assessment of the U.K. actually looks quite benign. The FTSE All-Share Index trades at a multiple of 14.2 times next year's earnings and 15.2 times blended two-year earnings, neck-and-neck with the euro zone's top 50 blue-chips. Analysts expect U.K. companies' sales and earnings to grow healthily in 2018 and 2019. Perhaps they think more stable oil prices and a global economic upswing will help commodities and financial firms, or that the pound will remain weak. But there seems to be very little expectation of any Brexit-related hit to investment or demand
Even though it seems like Brexit has been talked about, analyzed and game-theorized to death, the reckoning for capital markets still lies ahead of, and not behind, us. Assuming that the pragmatists are in charge looks like a rather bullish bet.
Before it's here, it's on the Bloomberg Terminal.
LEARN MORE