Business
Rosneft Delivers on Putin's Ambitions, at Some Cost to Investors
The Russian company spent $100 billion on its transformation into a global oil giant.
By and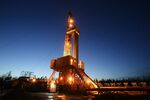 The $100 billion transformation of Rosneft PJSC into a global oil giant has been a key plank of Vladimir Putin's push to restore Russia's status as a major power. Whether this has delivered value for investors is increasingly debatable.
The state-run company is a clear symbol of the Kremlin's comeback. It's become the world's largest listed oil producer by swallowing up a clutch of domestic rivals. With deals this year from India to Venezuela and Egypt, Rosneft is on the way to being a global player whose expansion often aligns with Russian foreign policy priorities.

Yet the debt accrued along the way, plus direct sanctions against Chief Executive Officer Igor Sechin because of his close ties to Putin, mean Rosneft is unloved by investors despite the improving fortunes of its international rivals.
"Rosneft has clearly emerged as Russia's national champion," said Edward Chow, a senior fellow at the Center for Strategic and International Studies based in Washington. "Whether such transactions are beneficial financially to Rosneft and its minority shareholders is yet to be proven, but its appetite for foreign acquisitions appears to be growing."
The Russian company paid out over $6 billion since June for a stake in an Indian refinery, part of a natural gas field in the Egyptian Mediterranean and deliveries of Kurdish oil. That followed advance payments for Venezuelan oil totaling another $6 billion, which could be at risk as the troubled Latin American country restructures its debt.
Those international deals increased net debt, already the largest of any Russian company, for a fifth consecutive quarter to $48.4 billion, said Alexander Kornilov, an oil analyst at Aton LLC. Meanwhile, third-quarter profit fell short of expectations and free cash flow plunged, according to an earnings report published on Tuesday.
Shares fell 4 percent to 312.10 rubles as of 5:29 p.m. in Moscow, bringing the company's decline for the year to 23 percent.
"The company has had a pretty demanding quarter as far as cash outflows go," said Artem Konchin, an analyst at Otkritie Capital in Moscow. In his view, the current ratio of debt to earnings "is still fairly comfortable."
In the Putin era, the company has spent more than $100 billion on acquisitions, according to data compiled by Bloomberg. Rosneft says these deals are adding value.
Rising energy prices and cost savings mean the value of assets purchased over the last two years increased by more than $3 billion. The internal rate of return of these projects substantially exceeds 20 percent, the company said.
Venezula is continuing to pay its obligations, shaving "several hundred million" dollars off its debt principal since last quarter, First Vice President Pavel Fedorov said on a conference call on Tuesday.
The Russian producer has piled on massive levels of debt before and lived to tell the tale. In 2004 and 2007 it borrowed heavily to acquire assets the Russian government seized from imprisoned billionaire Mikhail Khodorkovsky's company Yukos. It then spent several years focused on reducing leverage and improving the productivity of its fields.
After rising to $26 billion in 2007, net debt fell by more than half over the next three years while oil and gas production grew steadily. Yet Rosneft's ambitions were undimmed and in 2013 it chose to use its renewed financial strength for another turbo-charged expansion, becoming the world's largest listed oil producer by acquiring domestic rival TNK-BP for $55 billion.
Investors shouldn't expect any change in Rosneft's strategy this time around, according to Sberbank CIB. The company will continue to pursue growth above all else, the bank said.
Before it's here, it's on the Bloomberg Terminal.
LEARN MORE