Charted
Home Depot's Double-Edged Sword
Hurricane season boosted third-quarter sales, but storm-related expenses took toll on bottom line
By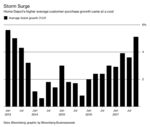 Home Depot Inc. saw its average customer purchase climb by 5.1 percent in the third quarter, the largest year-over-year increase in five years. The sales boost came on the heels of one of the worst Atlantic hurricane seasons in history, which resulted in $104 million of hurricane-related expenses for the retailer and reduced operating profit by $51 million. "Although natural disasters have had a positive impact on sales, their effect on margins has been less satisfactory," GlobalData Retail analyst Neil Saunders said in a note.
— With assistance by Matthew Townsend
Before it's here, it's on the Bloomberg Terminal.
LEARN MORE