Five Things You Need to Know to Start Your Day
Get caught up on what's moving markets in Asia.
By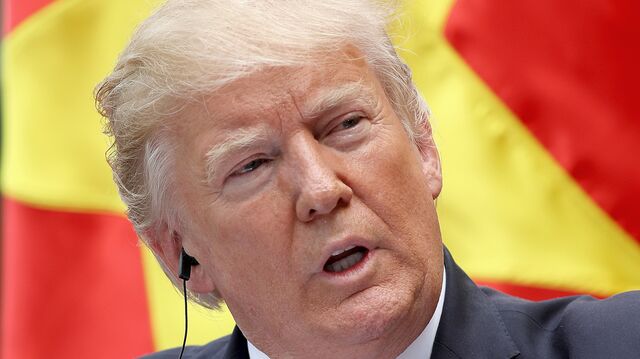 Want to receive this post in your inbox every morning? Sign up here.
Wheels up for Trump, Japan GDP due out, and central bankers talk about talking. Here are some of the things people in markets are talking about.
New Rules
U.S. President Donald Trump departed Asia telling the world that the "rules have changed" on trade. However, his stance on international commerce may push smaller nations in the region toward China. During his tour of the region, Trump pressed foreign leaders to purchase more American military equipment, telling his team that he needed quick wins to buoy approval ratings. Most of the business deals agreed to overseas were not of a binding nature. As the president returns stateside, he's seeking counsel on how to deal with Roy Moore after five women came forward alleging inappropriate sexual advances – and in some instances, assault – committed by the Alabama Republican Senate candidate. The Republican controlled Congress appears to be warming to an ideal previously promoted by Trump to eliminate Obamacare's individual mandate to generate savings for the GOP tax plan.
7-Up
Japan is expected to extend its streak of consecutive quarterly expansions to seven, with the preliminary reading of third-quarter growth projected to moderate to 0.4 percent quarter-on-quarter from 0.6 percent. The GDP deflator is also forecast to swing into positive territory on an annual basis, which may help the nation break its deflationary mindset. Later in the day, Japan is slated to release September's readings of industrial production and capacity utilization. It's also jobs day in South Korea, where the unemployment rate is forecast to hold steady at 3.7 percent in October. Aussie wages, considered a soft spot by the RBA, are expected to accelerate with growth of 0.7 percent quarter-on-quarter from 0.5 percent in the prior reading.
A Little Less Conversation?
The world's top central bankers affirmed their commitment to transparency and the benefits of forward guidance during a conference in Frankfurt. Bank of England Governor Mark Carney warned that the uncertain nature of the U.K.'s exit from the E.U. in March 2019 entailed that monetary policymakers had to be prepared to adjust rates in either direction. Fed Chair Janet Yellen even offered a rare public critique of her colleagues for oversharing their policy views and coming to meetings with their minds made up. On a related note, speaking in Alabama, Atlanta Fed chief Raphael Bostic indicated that he's comfortable with continued rate normalization. In other news, Dow Jones is reporting that the White House is considering nominating Mohamed El-Erian to serve as Vice Chair of the U.S. central bank.
Stocks Hit Oil Slick
The S&P 500 Index suffered its third loss in four sessions with commodity-linked stocks serving as the source of much of the damage. West Texas Intermediate futures tumbled in New York amid fears of slowing demand growth. The International Energy Agency also predicted that by 2025, U.S. fossil fuel production will eclipse that of Saudi Arabia and Russia during their boom years in oil and gas, respectively. Despite these seemingly bearish developments for crude prices, oil options traders have been boosting bets that Brent rises above $90 a barrel by mid-2019. Ten-year Treasury yields declined ahead of U.S. consumer price inflation data on Wednesday morning that's expected to fortify the flattening trend.
Futures Down
Nikkei 225 and S&P/ASX 200 futures are trading decidedly to the downside ahead of the open. Tuesday saw another messy session for Chinese traders, with the nation's 10-year yield breaching 4 percent amid data pointing to a moderation in activity for the world's second-largest economy. The nation's bourses were among the worst-performing in the region on the day.
What we've been reading
This is what caught our eye over the last 24 hours.
Before it's here, it's on the Bloomberg Terminal.
LEARN MORE