Your Evening Briefing
Here are today's top stories.
By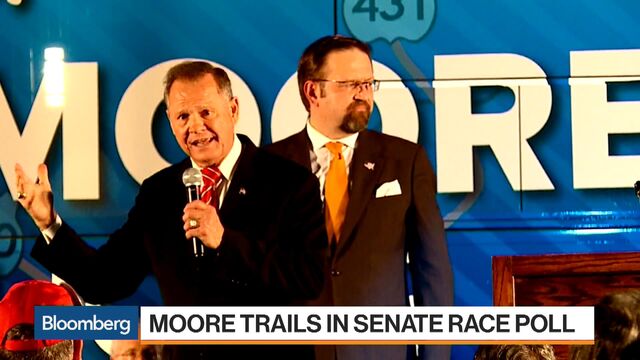 Want to receive this post in your inbox every afternoon? Sign up here.
Good afternoon. As the allegations of sexual assault against Republican Senate candidate Roy Moore continue to mount, Mitch McConnell said he believes Moore's accusers. That breaks through the "if true" qualifier that peppered Republican leaders' statements last week. 
Another woman accused Roy Moore of sexual misconduct. Beverly Young Nelson says she was 16 when Moore gave her a ride home one night in the late 1970s and assaulted her. Her accusation came hours after Senate Majority Leader McConnell called on the Republican Senate candidate to "step aside" in the campaign, saying he believes the women who have come forward. Moore fired back on Twitter, calling the latest allegations a "witch hunt." He is now trailing his Democratic opponent for the first time.
Still waiting on a Tesla. Even as Elon Musk's company struggles with manufacturing bottlenecks and pushes back production targets by at least a quarter, many who have reserved a Tesla Model 3 aren't budging. Of the 20 people Bloomberg contacted who put down $2,000 deposits for the car, none had canceled their orders.
Qualcomm rejected Broadcom's $105 billion acquisition offer, saying it was far too low and raised significant regulatory uncertainty. Now Broadcom's CEO, Hock Tan, has a choice: He can sweeten the offer or appeal directly to Qualcomm shareholders, setting in motion the biggest technology takeover battle in history.
An anti-Trump hotel for liberals is coming to Washington. Eaton Workshop, which is to open in late spring 2018, is planting its flag as a haven for Democrats. It's the world's first politically motivated hotel, the vanguard of a global brand built around social activism and community engagement.
Tempest in a K-Cup. Keurig pulled its ads from Sean Hannity's show on Fox News after Twitter users reached out to the company to request it nix the ads, saying Hannity defended Roy Moore. Then came the response from the other side of the political spectrum. Those defending Hannity and Moore posted photos of themselves smashing the company's single-serve coffee brewers.
How the office is adapting to climate change. Companies are beginning to consider "climate leave" policies — paid vacation days for employees who can't work because of extreme weather events. Fog Creek, a software company based in New York City, recently announced it will give affected employees even more time if there's a declared state of emergency.
$100 million burning a hole in your pocket? You could spend millions of dollars on a single painting at auction this week, or you could buy 111 Ferraris. Here's how to make those tough calls.
Before it's here, it's on the Bloomberg Terminal.
LEARN MORE