U.K. Lawmakers to Vote on Brexit, But Will Face a Stark Choice
By and
Lawmakers' choice: approve deal or accept chaotic no-deal exit

In the event of no deal, Parliament won't get a vote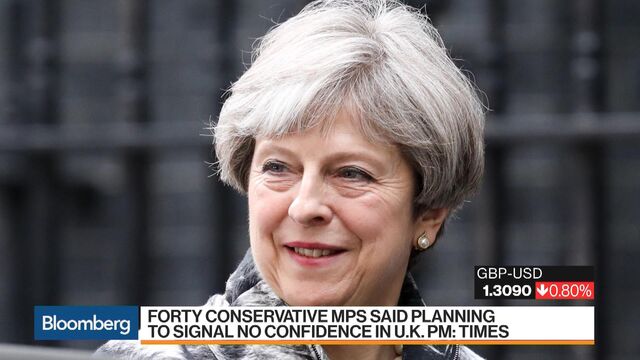 Follow @Brexit for all the latest news, and sign up to our daily Brexit Bulletin newsletter.
U.K. lawmakers will get a take-it-or-leave-it vote on the final Brexit deal, with their choices limited to accepting the agreement or voting for a chaotic crashing out of the block.
And if the government fails to reach a deal, the U.K. will leave without consulting Parliament, Brexit Secretary David Davis said on Monday.
The twin announcements provoked jeers in Parliament as what started out as a concession to a restive House of Commons, was quickly revealed to be a meaningless gesture. Several lawmakers, including Labour's Pat McFadden, said they would be voting with a gun to their heads.
Further restricting lawmakers' leeway in the final stages of Brexit, the government wants to write into law the date that Britain will leave. Designed as a concession to the most enthusiastic Brexit supporters in the divided Conservative Party, the proposal would mean there's no way Britain could ask for an extension if talks fail to produce a deal.
Dominic Grieve, a former attorney general and colleague of Prime Minister Theresa May who is now opposing the government's Brexit policy, called the proposal "thoroughly stupid" as he said it would tie the government's hands in negotiations. Davis blamed Article 50 of the Lisbon Treaty, the mechanism for departure, for why an extension would be difficult.
"The extension of article 50 can only be done by unanimity and that's the weakness of it," he said.
May is walking a political tightrope, trying to appease both Brexit hardliners and those in her party who want to maintain close ties to the EU.
Lawmakers from both main parties have been pushing for Parliament to have a greater say in the process, with some tabling amendments to government legislation that aim to prevent Britain tumbling out of the trading bloc without a deal. That legislation goes to Parliament on Tuesday, when May's minority administration will be tested.
Read more: landmark Brexit legislation returns and is beset by criticism
Davis was upbeat that a deal will get done and in good time to go to lawmakers. He hopes an agreement will be sealed by October 2018, giving time to Parliament in London and the European Parliament in Strasbourg to approve it. It will go to lawmakers in London as a bill.
Before it's here, it's on the Bloomberg Terminal.
LEARN MORE