Saudi Retail Traders Dump More Stocks Than Any Week in 2017
By
Individuals in the kingdom net sellers for 77 straight weeks

Mutual funds net buyers of 3.97 billion riyals worth of shares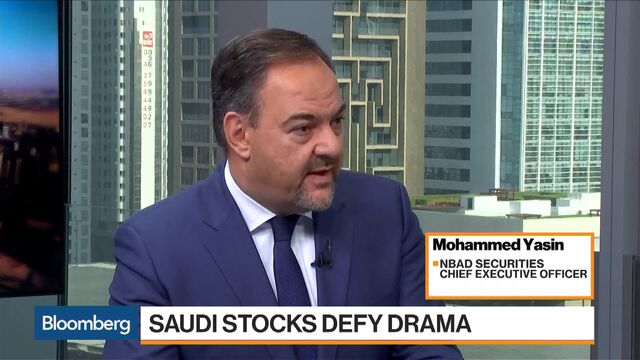 Saudi Arabian retail investors were the biggest sellers of stocks amid rising political risk in the region after a crackdown in the kingdom spooked traders.
They sold a net 2.18 billion riyals ($580 million) worth of shares last week through Thursday, the most since September 2016, according to exchange data compiled by Bloomberg. Saudi individuals, who include retail and high-net worth investors, were net sellers of 3.5 billion riyals.

Individuals have been net sellers every week since April 2016, in contrast to Saudi institutions, who have been net buyers throughout that period. They snapped up $1.4 billion last week, with mutual funds accounting for the bulk of the purchases. That helped the Tadawul All Share Index mitigate losses.
"Investors are worried about the uncertainty and the Kingdom is trying to restore the confidence by buying the selloff," said Naeem Aslam, chief market analyst at TF Global Markets in London. "The fact is that you will not be comfortable as an investor given the current climate, the practices which we are experiencing are unheard of. In other words, this is an uncharted territory and retail investors do not want their hard-earned money at risk."
Read More: It Happened Again: Saudi Shares Defy All the Drama to Post Gains

While the kingdom's stock index was little changed last week, a selloff wiped out almost $19 billion from exchanges across the region after Saudi princes and billionaires were arrested as part of a crackdown against corruption and as officials in Tehran and Riyadh traded barbs. The resignation of Lebanon's Prime Minister Saad Hariri from Saudi territory also added to geopolitical tension.
The Tadawul All Share Index rose 0.4 percent to 6,961.52 in Riyadh on Monday, as 126 of its 178 members rose.
King Salman isn't planning to abdicate in favor of his son, a senior Saudi official said, dismissing mounting speculation that Crown Prince Mohammed bin Salman, 32, will soon ascend to the throne. The prince -- named heir to the throne in June -- oversees defense, oil and economic policies, takes a particularly hard line toward Iran and pursues an activist foreign policy.
"The Saudi government needs to assure investors that its foreign polices are not going to make the region more unstable," said Aslam, from TF Global Markets. "Under the current climate, we do think that the geopolitical tensions in the region would escalate further.''
Net Sellers
Investors from six-nation Gulf Cooperation Council: 771 million riyals
High net worth Saudi investors: 578 million riyals
Foreign investors: 1.09 billion riyals
Net Buyers
Saudi mutual funds: 3.97 billion riyals, compared with 305 million riyals the week before
Saudi corporates: 1.35 billion riyals
Saudi institutions: 5.37 billion riyals
— With assistance by Dana El Baltaji, and Sarah Algethami
Before it's here, it's on the Bloomberg Terminal.
LEARN MORE