RT Registered as Foreign Agent in U.S., Editor Says
By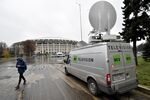 Russian state-funded broadcaster RT has complied with U.S. demands to register as a foreign agent, Editor-in-Chief Margarita Simonyan said.
"Between a criminal case and registration, we chose the latter," Simonyan said on the channel's website on Monday. "We congratulate American freedom of speech and all who still believe in it."
Simonyan said last week that the head of RT's U.S. subsidiary risked detention and the organization's bank accounts could be frozen if it didn't comply with the Monday deadline for registration set by the U.S. Justice Department.
The foreign-agent status, which applies to several outlets operating in the U.S. including NHK from Japan and the China Daily newspaper, requires disclosure of the media organization's foreign funding. Russia is threatening to retaliate by amending legislation this week so that it can label U.S. media outlets as "foreign agents," amid escalating tensions between Moscow and Washington over alleged Kremlin interference in the 2016 presidential election.
RT denies assertions by U.S. intelligence agencies that it acted as a propaganda arm of the Russian government in efforts to influence the election.
(
Corrects ownership of NHK in fourth paragraph of story originally published Nov. 13.
)
Before it's here, it's on the Bloomberg Terminal.
LEARN MORE