Romania's Ruling Party Leader Faces New Corruption Investigation
By
Dragnea suspected of misusing EU funds as regional official

Allegations come as Social Democrats seek to revamp judiciary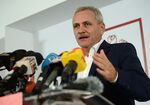 The powerful leader of Romania's Social Democrats is facing a new anti-corruption probe that could disrupt the ruling party as it pushes ahead with a controversial overhaul of the judiciary.
Liviu Dragnea, who already has a two-year suspended prison sentence for trying to rig a referendum and is under investigation in a separate case, is suspected of forming an organized crime group, giving false statements and abusing his official post, anti-graft prosecutors said Monday. The case concerns misuse of European Union funds during Dragnea's 2000-2012 stint as head of the southern Teleorman county.
"I strongly deny all charges as the stakes are political," Dragnea told a news conference in Bucharest. "It's a violent attack aimed at taking over the party. There are a lot of untrue things in the prosecutors' statement and I hope they'll be dismissed by evidence if we go to trial."
While he declined to comment as he left the prosecutors' office, Dragnea said later he hasn't considered resigning as he still has the party's backing. Several senior Social Democrat officials, including Deputy Premier Paul Stanescu, came to the prosecutors' office to show their support for their party chief.
Dragnea once again finds himself engulfed by an unprecedented five-year clampdown on corruption in the eastern European nation that's left hundreds awaiting trial or in prison, including a sitting prime minister. The Social Democrats, whose failed attempt in January to decriminalize some abuse-of-office offenses sparked the biggest protests since the fall of Communism, submitted their bill on revamping the judiciary to parliament last month.
Schengen Bid
Romania's bid to join the EU's border-free Schengen area is being held up by monitoring of the country's judiciary, which the 28-member bloc says needs reform. Nations including Germany and the Netherlands have delayed a vote on Schengen, citing insufficient progress in fighting graft.
Prosecutors said they worked on the latest case against Dragnea with the European Anti-Fraud Office, which sent a notification in September 2016 of false documents being used to wrongfully obtain EU funds.
The case includes eight other people and involves a company from Dragnea's home county that's been in the spotlight for several years after winning large infrastructure contracts. Dragnea has repeatedly denied local media reports that he has a financial interest in the company. The damage is estimated at about 30 million lei ($7.5 million) and 20 million euros ($23 million).
"Dragnea set up a criminal group that's still operational and includes members of the public administration and businessmen," the prosecutors said. "The main purpose of the group was to illegally obtain significant funds, both from national and EU sources, through abuse of office, fraud, money laundering and obstructing other parties' access to information."
Before it's here, it's on the Bloomberg Terminal.
LEARN MORE