technology
PC Gear Maker Razer Surges on Hong Kong Debut as Tech IPOs Boom
By
The gaming gear maker notches a 18% gain on its first day

Razer's performance bested only by China Literature this year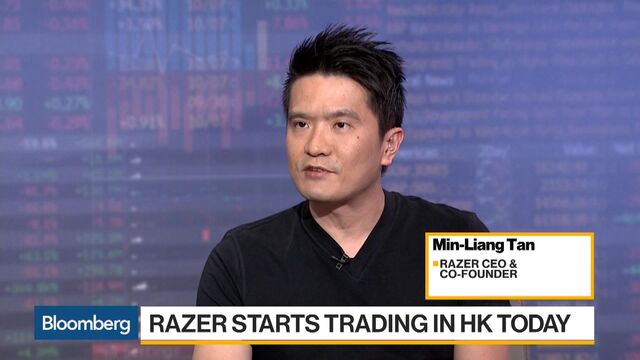 Razer Inc. climbed 18 percent in its Hong Kong coming-out party, as the maker of gaming laptops and accessories rode red-hot demand for first-time technology share sales this year.
The San Francisco and Singapore-based company closed at HK$4.58 on Monday, a first-day performance bested only by e-books publisher China Literature and Wuxi Biologics among Hong Kong initial public offerings of more than $500 million this year. Razer, whose green triple-headed serpent logo graces mice, headsets and notebooks for gaming enthusiasts, debuted just days after Tencent Holdings Ltd.-backed China Literature Ltd. soared 86 percent on debut.
Razer, backed by Singapore's sovereign wealth fund and Hong Kong billionaire Li Ka-shing, raised HK$4.1 billion ($530 million) and will use part of those proceeds to expand into smartphones, with a $699.99 Android device designed specifically for gameplay. Chief Executive Officer Tan Min-Liang, a gamer himself who owns about 42 percent of the company with his family, is set to become a billionaire following the public offering, according to the Bloomberg Billionaires Index.
"One element supportive to the Razer share price is favorable sentiment towards IPOs these days," said Ke Yan, an independent analyst who contributes to research aggregator Smartkarma. "Valuation aside, Razer has a line up of heavyweight investors and apparently Hong Kong investors buy the Li Ka-shing story."
Razer had soared to as much as HK$5.49 on Monday, a 42 percent gain. Its key backers include Singapore's GIC and Li's Horizons Ventures. Other investors include Chinese developer Kingkey Enterprise Holdings Ltd., IDG-Accel and Intel Capital. Credit Suisse Group AG and UBS Group AG were joint sponsors of the offering.
"We thought it was a great opportunity to be the first global tech company to list in Hong Kong," Tan said in an interview with Bloomberg TV today, ahead of the trading debut. "We've got this interesting position to be ahead of the tastemakers" after building a business of hardware, software and services, he said.
Hong Kong's red-hot market for technology listings has already surpassed the heady days of the dot-com boom.

Fundraising from tech-related IPOs in the city, led by ZhongAn Online P&C Insurance Co., hit a record $4.2 billion this year, according to data compiled by Bloomberg. That's more than five times the amount raised in Hong Kong during the global dot-com boom in 2000.
The heady sentiment recalls the boom-and-bust scenarios of past years. Hong Kong's most successful IPOs -- based on an offer size of $100 million or more and whose shares at least doubled on the first day of trading -- typically took place near the peak of the market.

— With assistance by Yvonne Man, Betty Liu, Anna Luk, Moxy Ying, and Timothy Sifert
Before it's here, it's on the Bloomberg Terminal.
LEARN MORE