Qatar Property Developer Ezdan Fires Workers in Revamp
Walid Ahmed and Mohammed Aly Sergie
Almost 220 jobs are said to be cut amid plans to go private

Ezdan's stock has tumbled 49% since deciding to delist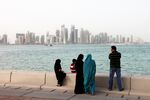 Ezdan Holding Group QSC reduced almost 15 percent of its workforce as Qatar's largest publicly traded real estate developer restructures its operations, according to two people familiar with the situation.
The 220 job cuts mostly comprised maintenance staff and included some management, said the people, who asked not to be identified because the information is private. An Ezdan spokesman and another official at the company didn't respond to requests for comment.
Ezdan held the second-largest weighting in the Qatari stock index earlier this year until it was dropped after shareholders approved a plan on May 24 to convert the business to a private company. The shares have fallen 49 percent since. Valued at 21.2 billion riyals ($5.5 billion), Ezdan is controlled by its founder, a Qatari royal, and related entities, and only has about 6 percent of its shares available for trading by outside investors.
S&P Global Ratings on Monday cut its long-term corporate credit rating on Ezdan to junk, lowering it to BB from BBB-, with a negative outlook. It cited a weakening of the company's financial-risk profile because of a deterioration in the country's operating environment as a result of the Saudi Arabian-led embargo against Qatar.
Before it's here, it's on the Bloomberg Terminal.
LEARN MORE