Pound Panic Overblown to Analysts Eyeing Brexit Breakthrough
By
Survey sees 68 percent chance of Brexit progress by year-end

Sterling "priced in for the very negative scenarios": CBA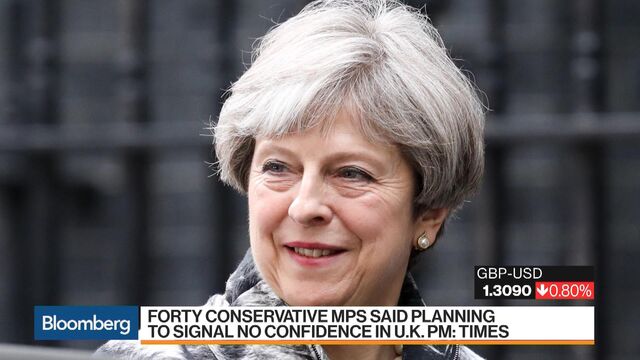 Analysts are more optimistic than the U.K. government that an agreement will be reached with the European Union next month to move Brexit talks on to trade even as Theresa May's political troubles continue to weigh on the country's beleaguered currency.
A Bloomberg survey of seven banks pegged the odds of a Britain-EU accord in December at 68 percent. That's more than Brexit Secretary David Davis, who put the chances of a breakthrough by December at 50-50, according to European business leaders he briefed at a Monday meeting. His spokesman denies he made the comment. Commonwealth Bank of Australia's Peter Kinsella sees the probability of a deal at 80 percent, the highest in the survey, with the lowest estimated by Mizuho Bank Ltd.'s Neil Jones at 35 percent.
The most bullish sterling forecast is from Nomura International Plc, which sees it rising 7 percent to $1.40 by year-end on the back of deal, while Commerzbank AG's call for the currency to weaken as much as 10 percent in the absence of an agreement is the most bearish.

Sterling fell as much as 1 percent Monday to $1.3062 after the Sunday Times reported 40 members of parliament were ready to sign a letter of no confidence in Prime Minister May. It later pared losses to close at 1.3116, before slipping again by 0.3 percent on Tuesday. The opposition Labour party accused May of lacking the support of her own party to deliver the Brexit transition period she's proposed. Implied volatility on pound-dollar options expiring in a month jumped 151 basis points over the past two days, heading for the biggest such increase since October 2016.
With just over two weeks until EU officials meet in Brussels and begin drafting the conclusions for the December EU summit, Britain needs to make an offer on the divorce bill to move talks on to trade. Despite a ticking clock and a weakened government, strategists are optimistic that the U.K. will agree to a deal in time, boosting the pound.
Here's a roundup of analysts' views ahead of the December meeting:
Nomura International Plc
Sees 60 percent probability that EU will allow talks to move on to trade in December
"The leaked letter is just capturing people's attention," says currency strategist Jordan Rochester, referring to the Sunday Times story. "My mind will change if 40 MPs become 48"
"It still requires Theresa May to do something in the next two weeks but I am assuming she will do just enough to get things moving as it's not in her interest to slow things down further"
Commonwealth Bank of Australia
"The U.K. has a history of playing this domestic political uncertainty with Brussels and extracting concessions from Brussels," says Kinsella, senior currency and rates strategist, in an interview with Bloomberg TV
Sees an 80 percent probability of a December deal
The pound is "priced in for the very negative scenarios" meaning it could gain up to 3 percent if progress is announced in December, says Kinsella
Standard Bank
Head of currency strategy Steven Barrow sees the likelihood of talks advancing to trade in December as "quite high, 75 percent"
"The market clearly seems more worried after the weekend but I don't think the stories made much difference"
Sees the pound gaining to $1.32 on a December agreement
Commerzbank AG
Probability of moving talks with the EU on to trade following the December summit is "a little below 50 percent," says economist Peter Dixon
"Both sides want to come to an arrangement, but the British are dragging their heels on accepting the extent of their liabilities," Dixon adds
"Two of the three issues on the EU's agenda have not been taken sufficiently seriously by the U.K."
For the pound, "the risks are for a much sharper depreciation due to the lingering risk that the negotiations fail," according to currency strategist Thu Lan Nguyen
Mizuho
There is a 35 percent chance of a deal by December, according to head of hedge fund sales Neil Jones
The market's thinking is that May is on the way out, given only another 8 votes are required to oust her, said Jones, referring to the Sunday Times story
Sees the pound around $1.35 if progress in December, and "$1.28 initially" if no agreement
Before it's here, it's on the Bloomberg Terminal.
LEARN MORE