Overseas Egypt T-Bill Holdings Drop for First Time Since Float
By
Holdings fell to EGP331 billion on Nov. 7 vs EGP333.6 billion

Foreigners bought more than $18 billion in debt in past year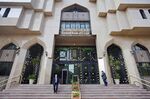 Foreign holdings of Egyptian Treasury bills fell for the first time since the country floated the pound a year ago as maturing notes exceeded new purchases, suggesting demand for high-yielding Egyptian debt has peaked.
Overseas investors held 330.9 billion pounds ($18.8 billion) worth of T-bills as of Nov. 7 versus 333.6 billion pounds a week earlier, Samy Khallaf, head of the Finance Ministry's public debt division, said by phone. The flow of new money and the appetite to renew maturing notes maybe waning due to seasonal factors, he said.
"We're still seeing purchases from foreign investors, but maturities this quarter are larger than the previous one," Khallaf said. "We're also entering the holiday season so it is normal to see lower activity from foreign funds."
The slowdown suggests that some investors have allocated all they can to Egypt. The North African nation saw more than $18 billion land in its debt market since authorities removed most currency restrictions and cut subsidies, clinching a $12 billion loan deal from the International Monetary Fund in November 2016.
Weakened Pound
Since then, the pound lost about 50 percent of its value against the U.S. dollar, fanning a surge in inflation to more than 30 percent, its highest level in decades. The central bank responded by raising interest rates 700 points, pushing T-bill yields over 22 percent.
On Friday, S&P Global Ratings raised Egypt's credit outlook to positive, reflecting the potential to raise Egypt's sovereign credit rating if the country sticks to its reform plan. S&P currently rates Egypt B-, six levels below investment grade.
Khallaf said foreigners were buyers in the debt auctions on Sunday and Thursday, but declined to provide numbers. The yields on 3-month and 9-month bills sold this week rose to 18.47 percent and 17.83 percent, respectively, versus 18.39 percent and 17.71 percent last week.
The Central Bank of Egypt is scheduled to decide on the benchmark interest rate on Thursday. All six economists surveyed by Bloomberg expect the rate to remain unchanged at 18.75 percent.
Before it's here, it's on the Bloomberg Terminal.
LEARN MORE