This Is How to Get Cheaper Gas in Hungary
By
Head of tax authority boasts of price cut at Mol gas station

Move showcases cabinet's meddling in Hungarian economy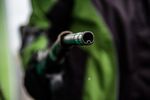 For an example of the government's micromanagement of Hungary's economy, consider the way the head of the tax authority says he got the country's biggest refiner to cut fuel prices at his local service station.
Andras Tallai, who runs the tax authority in his capacity as state secretary in Prime Minister Viktor Orban's government, boasted on Facebook over the weekend about talking Mol Nyrt. into cutting fuel prices in his constituency of Mezokovesd, a city of about 17,000 people 130 kilometers (81 miles) east of Budapest.
"I've attended to fuel prices in Mezokovesd and its vicinity based on a citizen's request," Tallai, who's also obtained lavish state and corporate subsidies for the local first-division soccer team, said in the Facebook post. "We negotiated with officials at Mol and, as a result, gasoline prices have fallen 11 forint and diesel by 5 forint compared with October 31."
While Orban has made energy price cuts a campaign theme before, the sudden focus on a single constituency shows the ruling party's willingness to intervene in the economy for political gain. Hungary is holding parliamentary elections next year, with Orban's Fidesz party in full campaign mode despite already leading by a wide margin in all opinion polls.
'Price Equalization'
The country was ranked 101st of 137 nations for institutional quality in the World Economic Forum's 2017 Global Competitiveness Report, lagging countries including Russia, Malawi and Uganda.
Tallai said the "equalization" of prices was set to continue in the region. After his intervention, the price of the most commonly used blend at the Mol station in Mezokovesd was still 2.6 percent higher than the national average of 365 forint ($1.36) per liter, with prices ranging from 346 forint to 416 forint across the country, according to the holtankoljak.hu price comparison website.
Mol, in which the government owns a quarter, declined to immediately comment on the rationale for the price change. The Mol price reduction in Mezokovesd compares with a national average increase of 16 forint for a liter (0.26 gallon) of unleaded petrol and 11 forint for diesel across all brands this month, according to the holtankoljak.hu.
Before it's here, it's on the Bloomberg Terminal.
LEARN MORE