Noble Group Loses Key Bank Support as DBS Cuts Lending
By and
DBS has sold $60 million stake in RCF due in May, person says

Co-CEO Jeff Frase, who ran oil unit being sold off, resigns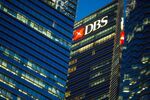 Noble Group Ltd., the commodity trader fighting for survival, lost support from one of its key banks as Singapore's DBS Group Holdings Ltd. cut lending, according to a person with knowledge of the matter. Shares sank.
DBS sold its $60 million stake in Noble's $1.1 billion revolving credit facility due in May next year, and also closed some other financing to the company, the person said, asking not to be named because the matter is private. It's unclear whether the bank still has any remaining credit exposure to the trader.

The withdrawal by a core bank is the latest blow to Noble as it moves towards an all-but inevitable debt restructuring, battered by losses of more than $3 billion so far this year. Noble and DBS declined to comment. The move by DBS to cut its exposure to Noble was first reported by Debtwire. After the close of trade, the company announced the resignation of one of its co-CEOs, Jeff Frase.
DBS had been a key supporter of Noble through a crisis at the Hong Kong-based trader that's run for more than two years. Noble Chairman Paul Brough recently mentioned DBS together with Societe Generale SA and ING Groep NV for having helped support the company through a crisis of confidence following its announcement of a surprise first-quarter trading loss.
On an August earnings call, Brough highlighted "the great support we received from my bilateral banks, SocGen, ING and DBS" as having been key to securing sufficient trade finance to support Noble's Asian business -- the part of the company that remains after the sale of its U.S.-focused oil unit to Vitol Group.
The bank, whose biggest shareholder is Singapore state investment company Temasek Holdings Pte, was a member of a steering committee of lenders under the RCF which was formed earlier this year.
Frase resigned to pursue other opportunities outside the group, Noble said, without giving details. Frase, who had been co-chief executive with Will Randall, headed up the oil business that's now being sold to Vitol, with the deal expected to close before the year-end. Randall will now become the sole CEO.
Noble, listed in Singapore, fell as much as 16 percent to 21 Singapore cents, the lowest since 1999, and ended at 22 cents. The company, once worth almost $12 billion, has seen its market capitalization plummet to just $212 million amid criticism of its accounting practices led by Iceberg Research.
Financing Squeeze
Noble has already experienced a drastic squeeze in financing availability -- a key resource for trading houses whose core business is to buy and sell commodities using credit. It said on Thursday that liquidity headroom -- a measure of capital available to fund its business -- fell 43 percent over the third quarter, while available cash at continuing operations shrank to the lowest in more than a decade.
On top of the RCF line, and a borrowing base loan that it's planning to close after the sale of its oil business, Noble has outstanding bonds maturing next year, 2020 and 2022 plus a perpetual note. Noble has "had to manage liquidity very carefully," Brough said on Thursday. "That has obviously impacted our ability to trade and therefore our trading results."
— With assistance by Jack Farchy, and Jasmine Ng
Quotes from this Article
Before it's here, it's on the Bloomberg Terminal.
LEARN MORE