Netanyahu Rival Avi Gabbay Makes an $18 Billion Case for Peace
By and
Labor leader says he would revive Palestinian peace talks

Gabbay backs fixing Iran deal, warns Hezbollah to avoid war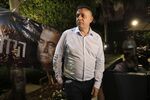 Much like U.S. President Donald Trump, Israel's Labor leader Avi Gabbay wants to use his business acumen to solve the Israeli-Palestinian conflict.
The former chief executive officer of Israel's largest telecom company even has a number for how much a peace deal would benefit Israel's economy: 63 billion shekels ($18 billion) per year to the state's coffers.
"We are a technology power, but there's still lots of countries and sectors that won't do business with Israel because of the absence of a deal," Gabbay, the former chief executive officer of Bezeq Israeli Telecommunication Corp., said in an interview in Labor's Tel Aviv headquarters.
Gabbay says the estimate, which is based on the premise that a peace deal would drive more investments and trade as well as cutting the amount of money needed to spend on security, was calculated by the pro-peace "Israeli Regional Initiative" group, which he was part of before joining politics. "A peace deal would attract these investments," he said.
Just don't ask Gabbay how he'd reach a deal; he won't discuss his positions on the conflict, saying details should be negotiated during talks with the Palestinians. That didn't stop him from stirring up controversy recently when he said Jewish settlers wouldn't need to be uprooted from the West Bank in a future peace accord.
Gabbay seeks to portray himself as a reformer with business credentials who transcends traditional left-right politics, in the mold of French President Emmanuel Macron. He says he favors peace with the Palestinians but, after growing up in a home that voted for Prime Minister Benjamin Netanyahu's conservative Likud Party, his stances on the conflict are closer to Israel's traditional right wing. The key difference between him and Netanyahu, Gabbay says, is that he actually wants to reach a two-state solution.
No Talking
"There needs to be dialogue between the two sides, which are only a 45-minute drive away from each other," Gabbay said, criticizing the limited communication between Netanyahu and Palestinian Authority President Mahmoud Abbas. "I come from the world of business. You don't do deals if there is no talking between two sides."
Recent polls show Gabbay running neck-and-neck with Yesh Atid Party legislator Yair Lapid for leadership of the center-left bloc. But Gabbay's path to leadership will be complicated, with key members of Netanyahu's coalition, including Moshe Kahlon -- whose party Gabbay left before joining Labor -- saying they wouldn't join a government he led.
Gabbay's policies contrast more sharply with Netanyahu's on economics. Inequality and poor public services are key problems in Israeli society, which Gabbay said his business experience would help address. He would stop cutting corporate taxes, something he says doesn't stimulate the economy with interest rates already near zero, and instead support tax cuts for working families and streamline bureaucracy and regulation.
Gabbay served for a year as Netanyahu's environment minister, clashing with the premier over a national gas framework that allows explorers to export the fuel. The agreement drew thousands of protesters to the streets, where they argued that Israeli consumers were paying too much for gas. Gabbay said he wouldn't cancel the framework but would work to fix the "high prices" embedded in it.
Iran Deal
Reaching across the aisle, Gabbay said he agrees with Netanyahu's opposition to the 2015 Iran nuclear deal, but that quiet action would be more effective than "big speeches" in spurring global powers to action. He dismissed growing concern that a spat between Saudi Arabia and Lebanon could embroil Israel in war with Hezbollah, saying it's not in either side's interest.
Netanyahu has urged Trump to either fix or cancel the nuclear agreement, and his government is making a diplomatic push to extend restrictions in the deal on Iran's development of ballistic missiles, sponsorship of terrorism, and weapons proliferation to terrorist groups.
"It's important to focus not only on rolling back Iran's nuclear efforts, but on their efforts to destabilize the region as well," Gabbay said. "We can't come to terms with the fact that a country that wants to destroy us will have nuclear weapons."
Before it's here, it's on the Bloomberg Terminal.
LEARN MORE